Trip Report: 2023 New Year's Day Sandy River Float
2023 New Years Sandy River Float
Submitted by Scott Harvey
Mild temperatures and sunny skies is what greeted eager boaters and passengers on Sunday morning who showed up at Dodge Park for the annual Sandy River "New Year's Day Float". It was quite a difference from last year's, New Year's Day float where the weather conditions last year required a skull cap and neoprene gloves, in addition with the drysuit and thermals. Along with the mild temps, we were also greeted with medium to high river flows of around (5,300 cfs).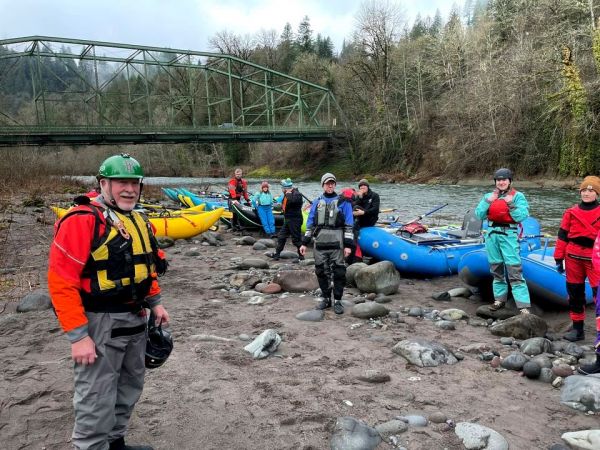 We had a gathering of roughly 45 to 50 hardy participants who showed up this morning for the start to the "2023" boating season. They arrived with a colorful flotilla of rafts, cat-boats, paddle rafters and kayakers. It's always good seeing some old familiar faces along with some new faces who appeared to be on board for this traditional January 1st run! There were some folk's that I hadn't seen in several years and it's always good to catch up with some of the old river rat acquaintances.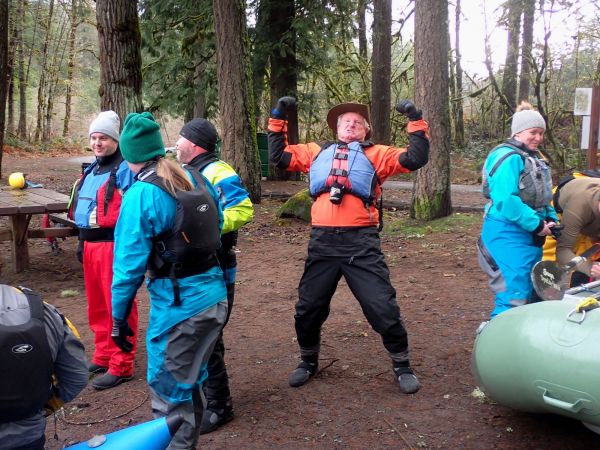 The Sandy River can range between a class 2 at low flows to a class 3+ river during extreme high flows. At today's flow of 5,300 I would rate this section of the Lower Sandy River Canyon a class 2+(3). The distance from Dodge Park to the Oxbow Regional Park boat ramp is roughly seven to eight miles in length. It only took us 1-1/2 hours float time and not to mention the 20 minute sun break and B.S. session we took on a right side sandy beach, located just below Indian John Island.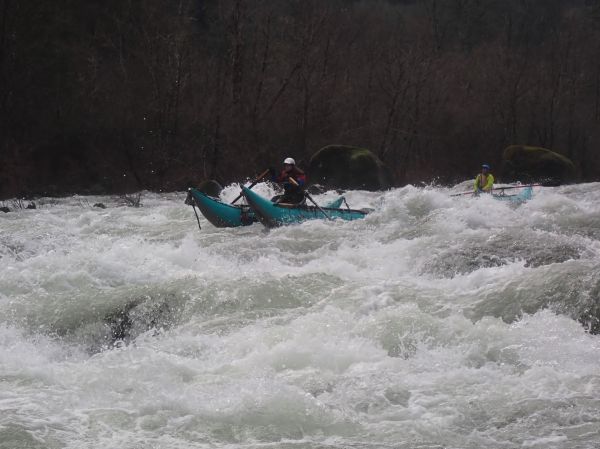 Enjoyment on the river was had by all because of the splashy whitewater nature of the river, sunshine, good company and also, most likely the need to get outside during our long winter months at the 45 deg, 30' North Latitude placement in the Northern Hemisphere. On this beautiful and sunny winter day, we passed several fishermen and hikers who just happened to find their way into the Lower Sandy River Gorge to enjoy the peacefulness and serenity of the river canyon this time of year.
At the takeout, everyone organized quickly to retrieve vehicles and get boats loaded up. After securing boats and exchanging our river apparel for some warm, dry clothing, everyone made their way to the covered shelter #A that was reserved for the OWA. Where a fire was roaring, pulled pork was being served, hot drinks including coffee, cider and cocoa was to be had and some yummy treats and desserts that accompanied the potluck. A thanks to Val Shaull for organizing this event, Brent Davis and Risa Boyd Davis for providing the pulled pork sandwiches after the run. Randy and Cheryl Ford for the firewood, Brenda Bunce, Kimberly Criss Long, Thomas Bennett and others that helped with shuttles and everyone else that brought food and yummy desserts to the potluck at Oxbow Park after the float. Good time was had by all who came out!