Trip Report: A Grand Canyon Adventure, October 2021
A Grand Misadventure
Submitted by Paul Vermilya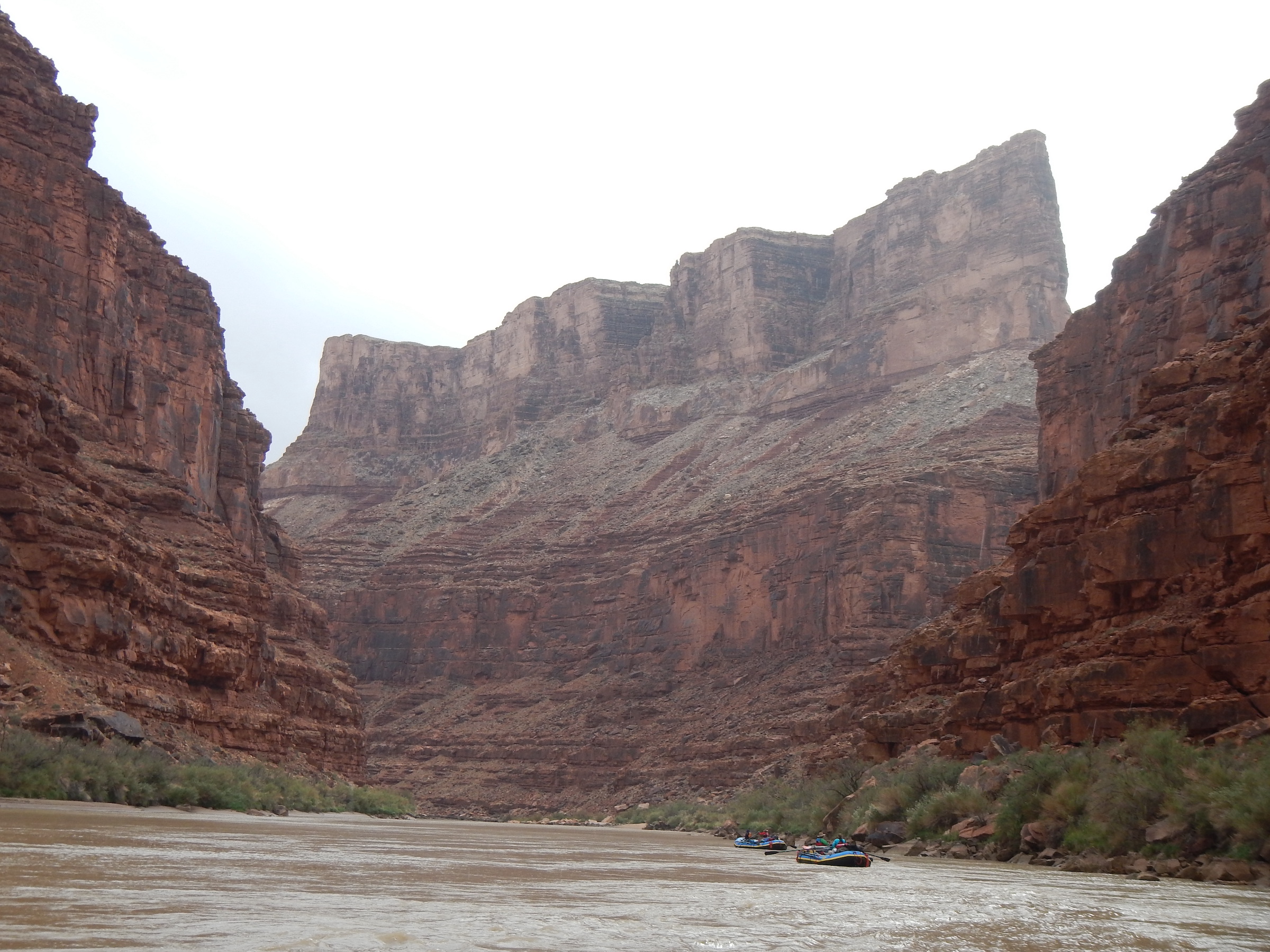 Our excited band of eight departed on October 7th for a 21-day float down the Grand Canyon. The river is normally emerald green this time of year but, alas, was closer to the color of a chocolate milkshake due to recent torrential rains. It would remain so for 2/3rds of our journey. We utilized Canyon REO as our outfitter, who equipped us with 4 brand-new 18' NRS rafts and supplied all our meals.
The water was low, fluctuating between 6500-9000 cfs (normal October is 8500-14000). We were told by Canyon REO on our way to Lee's Ferry that the lower levels were making some rapids easier (Lava, Granite), but others more difficult - specifically House Rock, Hance, Horn and Bedrock. Prophetic words those turned out to be. The 3 Canyon veterans on our trip confirmed afterwards that these lower levels definitely made certain rapids more challenging.
On Day 2 - we had a vicious flip at House Rock with a nasty swim for the skipper of that boat, but no harm or damage from it. The flipped boat was one of the heavier boats and it took numerous tries before we succeeded in getting it back upright.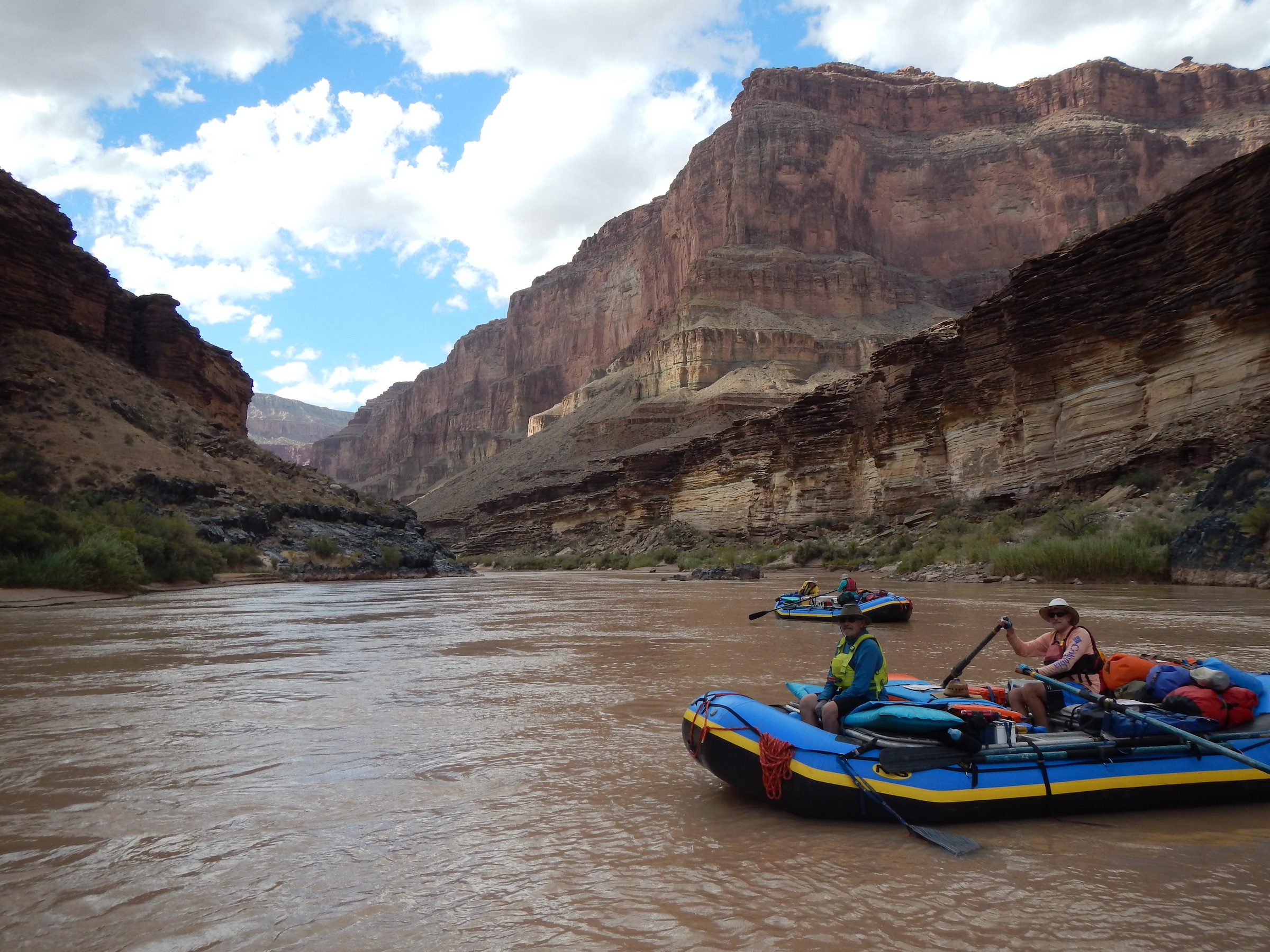 On Day 5 – at Nankoweap camp – we had a massive wind and rainstorm just after dinner as darkness fell. Tents were near collapse so severe was the wind. It was nearly impossible to set up a tent if it wasn't already up (and many weren't as it was sunny when we hit the beach). The rain was torrential. Some got soaked and slept in their drysuits, but all were ok. Around 9:00 p.m. we heard a massive rock-fall very close. It sounded like a freight train being dropped from the sky. A massive rockslide had occurred nearby but we never ascertained with certainty exactly where it happened. It was a very cool if unnerving experience.
On Day 7 - two people were ejected at the hidden pour-overs in the run-out of Nevill's. The muddy water made it challenging to see pour-over rocks. Once again, no one was hurt. I chased and retrieved one swimmer before they got too far downstream while someone else corralled the other swimmer and the ghost ship.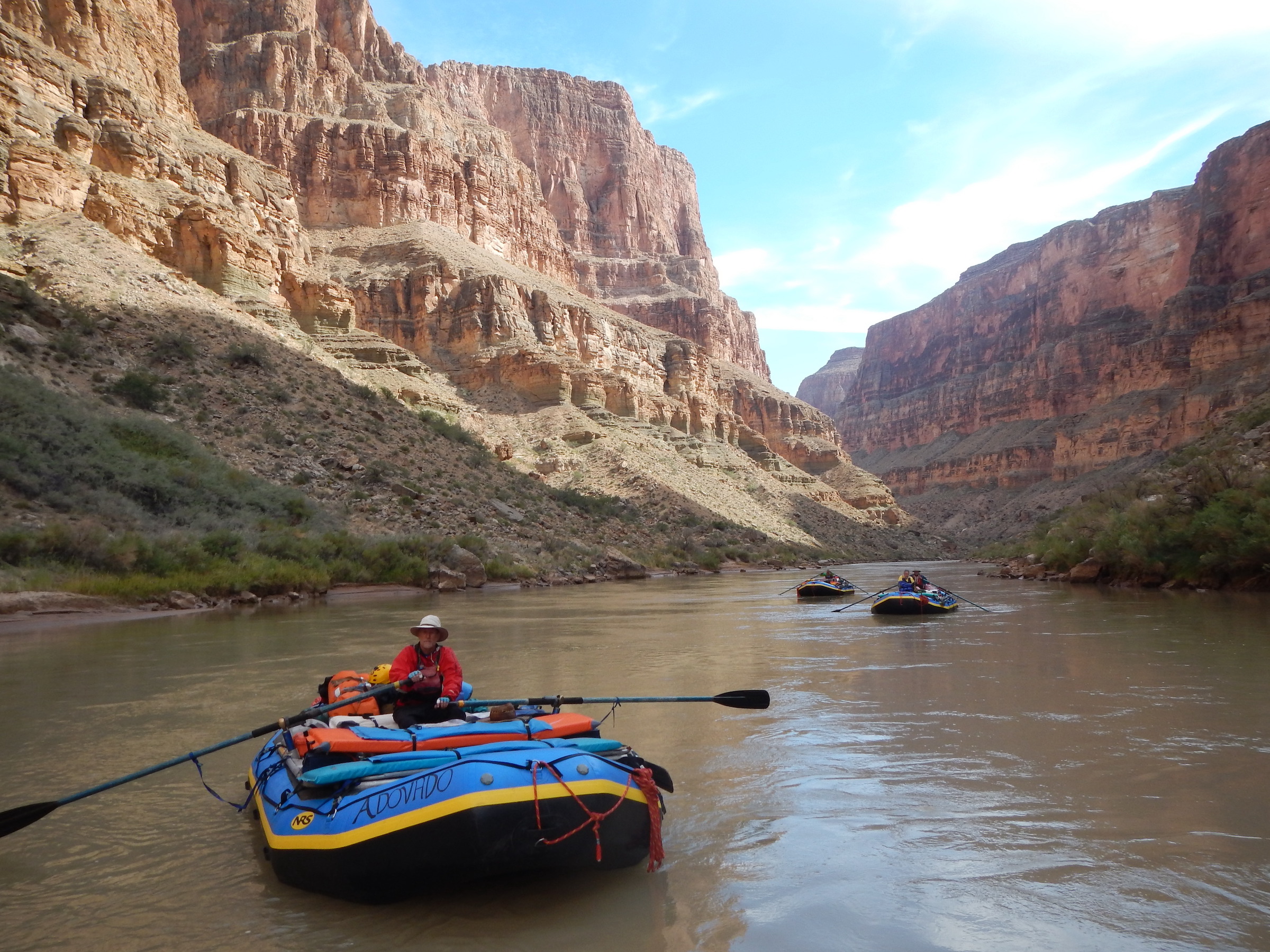 On Day 9 – Our trip leader had a flip and subsequent hideous wrap at Horn and a 2nd boat's skipper was ejected and swam. I thought we would need an NPS helicopter to get the boat off, so badly was it wrapped (on river right against a known pin/wrap rock). It was the kitchen boat and was thus very heavy. It was pounded against the rock for hours. Straps failed from the incessant pounding and much gear was lost. We owed Canyon REO an additional $3600+ in lost or damaged equipment. The frame was cracked and bent, we lost 4 Cataract oars, the major repair kit, the electric water filter for drinking water, the "staples" box, the coffee pot, 2 cots, 3 sand mats and numerous other items. Everything was securely strapped in, but such was the pounding that straps failed. Finally, after 2+ hours of seemingly futile pulling and prying (the Z-drag kit was pinned inside the wrapped boat, as was the Satellite phone), we finally were able to get the boat free.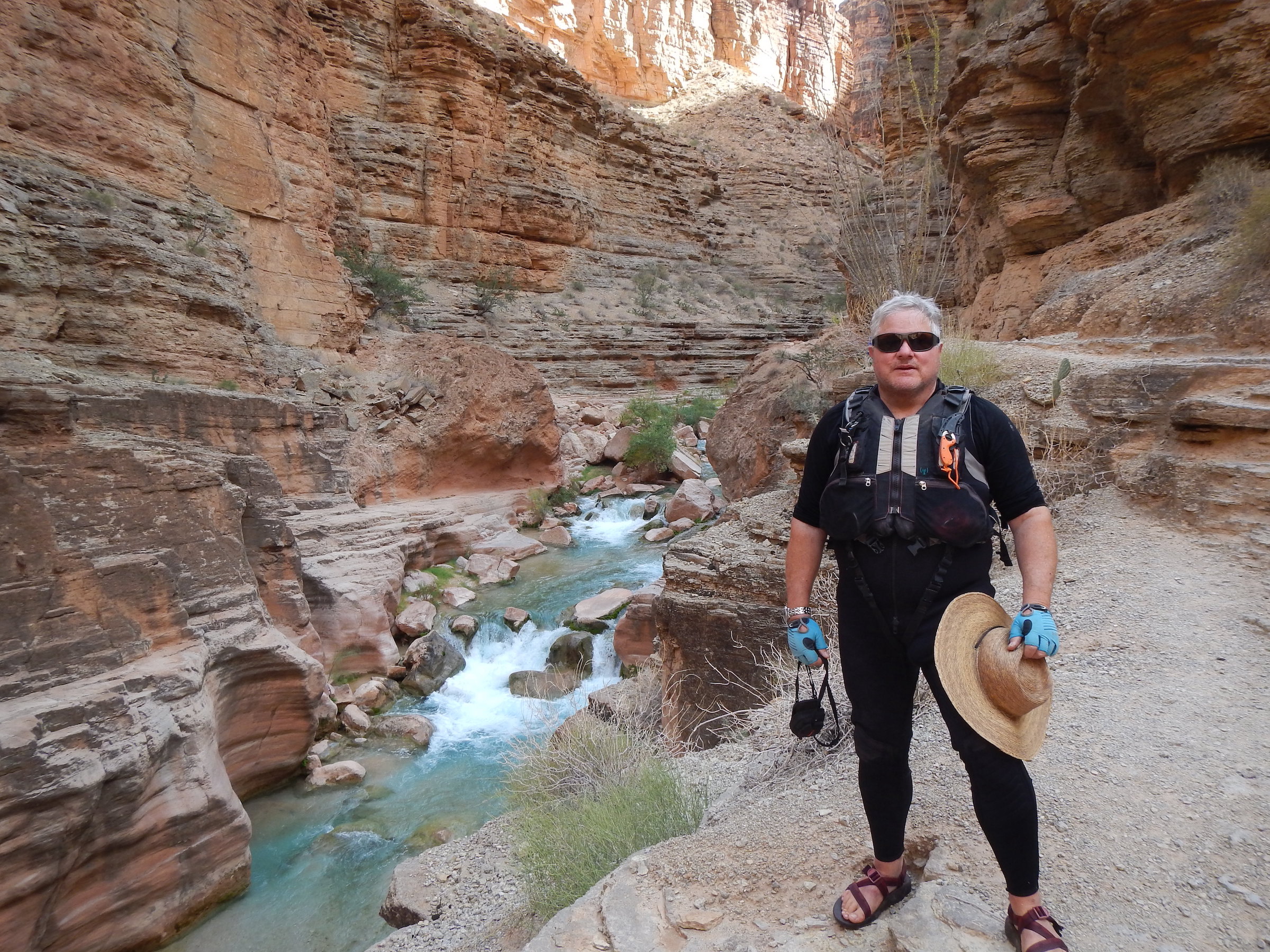 The force of the water had torn the frame off one side. We pulled the boat to shore but the frame, with large boxes now full of water, was stuck badly underwater in Canyon muck. About then, a large commercial group from Wilderness River Adventures came along. They were our saviors, spending considerable time setting Z-drags with astounding alacrity in order to pull the frame and all its accessories out of the grasp of the sticky river muck.
We spent that afternoon re-rigging and putting the boat back together at 91 mile camp (aka Horn Hospital) so we could limp on. We were forced to wait for someone to come along with a spare oar lock as ours had been sheared off in the incident. The major repair kit, now on the bottom of the river, had all our spares in it. Just after noon a good Samaritan came along with a spare Cobra and we were back on our way. We later learned we were far from the only people who have experienced hardships at Horn due to lower water levels.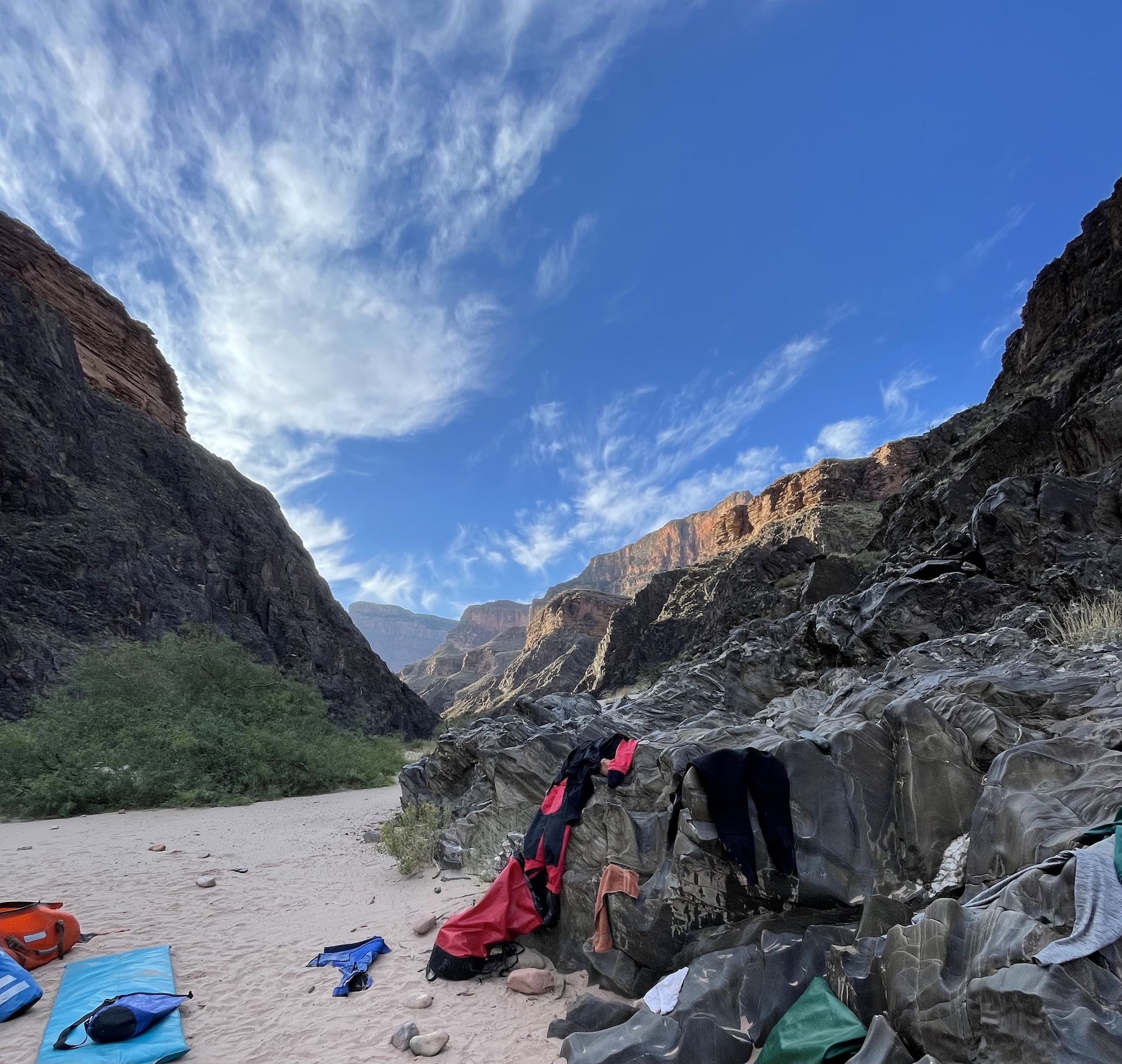 Everyone's nerves were frayed and raw after dealing with an incident that seriously crippled the trip and could have ended it. The toll in lost and broken gear was significant. Two of the people in our group – an early 30s young couple – were especially upset. They began by asking about the potential to hike around future rapids, a notion that was uniformly rejected for safety reasons. The severe wrap had dissolved their resolve to continue and they began researching a way to escape from the Canyon. After studying a hiking book, they announced they were going to hike out just before Granite, four miles downstream from our camp. I was angry and had very conflicted feelings about their decision and my friend who invited them, who had vouched strongly for their character and reliability. Our trip leader spent considerable time trying to dissuade them, pointing out the increased danger to the remaining group members, but it was to no avail.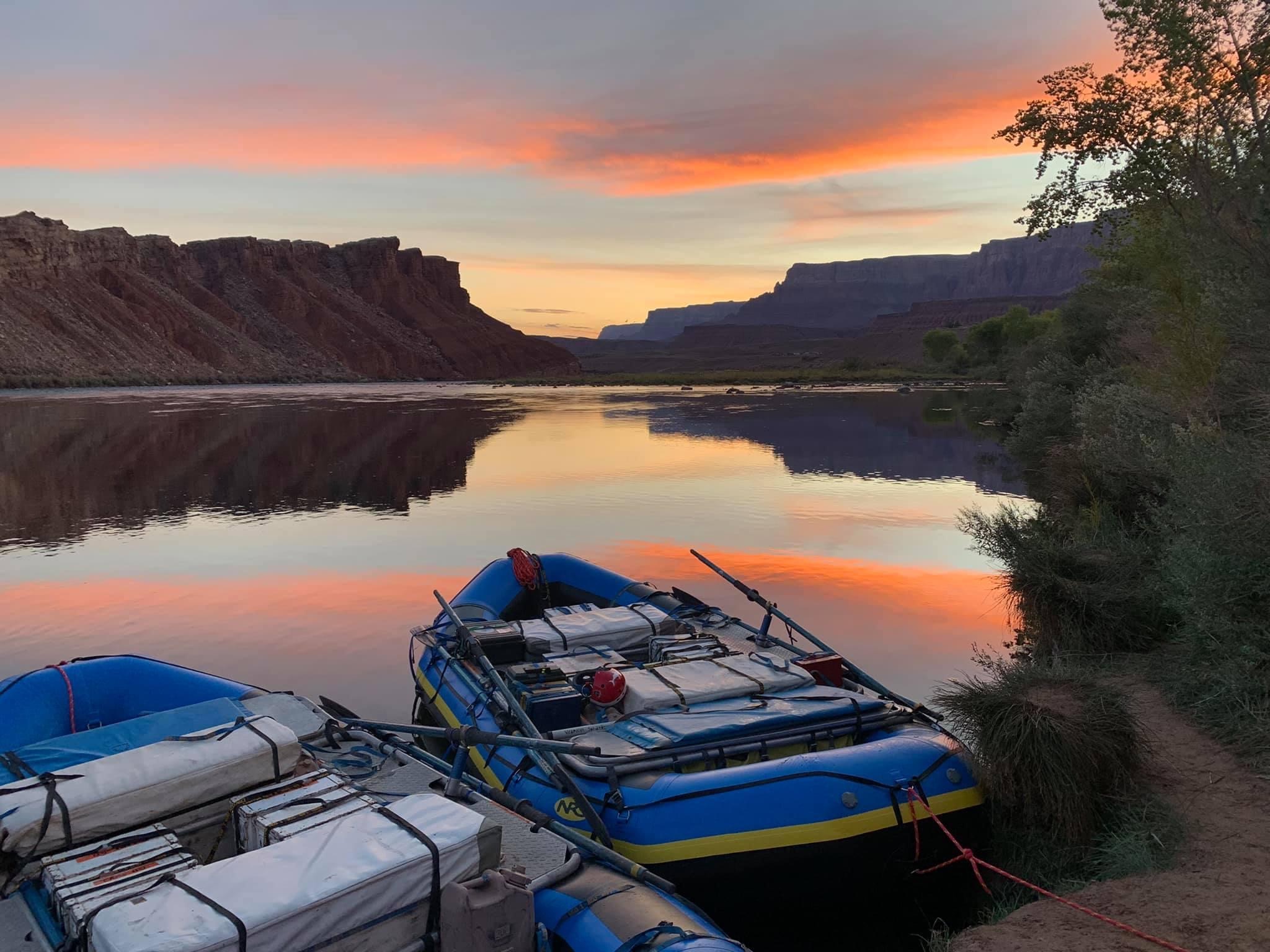 On day 10, just before Granite (RM94), our two mutineers hiked out. 6 geriatrics were left to row four 18' rafts the rest of the way (131 miles). As a result of the departure the trip leader and I each rowed half of the rest of the river solo. To his credit, the person who had invited the duo volunteered to row solo for the rest of trip. Ironically, after their departure, we never experienced another set-back of consequence. Two rafts did go left at Bedrock (two went right) – but they miraculously escaped unharmed.
The trip was glorious, wonderful, magical and everything I hoped for excepting the fracturing of our group. The scenery was stunning and the weather was mostly perfect, save for the aforementioned storm and two other evenings where we had wind, rain and blowing sand.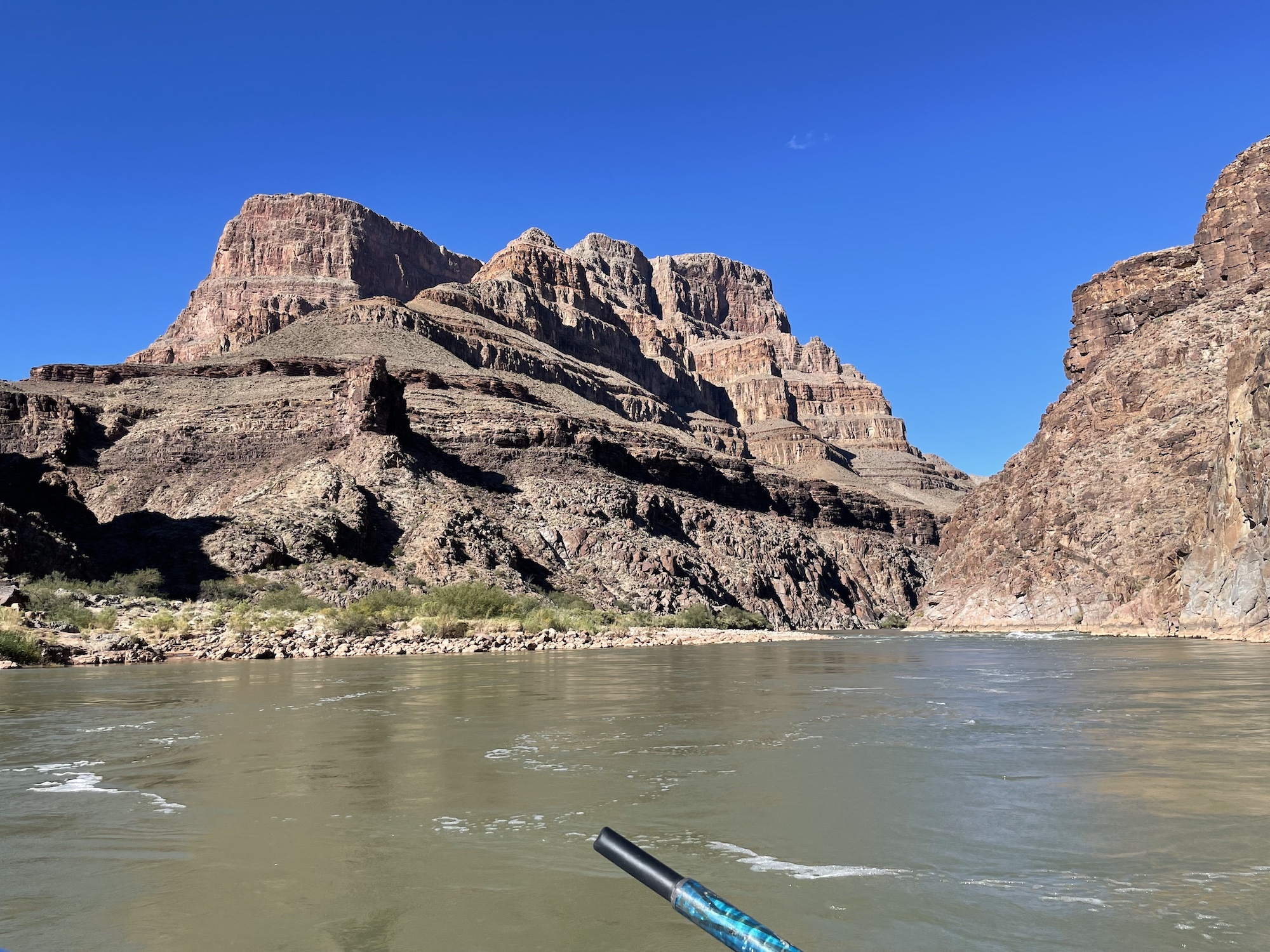 Several GC vets had expressed reservations prior to our trip about having 2 neophytes on such a small trip (the two did not have significant whitewater experience). I let my friend convince me they were qualified, but in the end, I share in the blame as I held the permit and greenlit the invitation. They were, indeed, hard workers and nice people. I suspect if we had had a good run at Horn they would never have left. However, their decision to leave remains unfathomable to me and caused me considerable angst. Their fleeing runs so counter to the ethos of rafting and virtually all outdoor wilderness pursuits where group unity is so critical to safety. I wish I had listened to the advice veterans had given me prior to the trip.
Having said that, the group dynamics were solid - before and after their departure, but especially after. The remaining 6 "old guys" were pleased that we persevered and prospered despite the early challenges. We enjoyed a sense of ironic satisfaction that nothing more happened once they hiked out. Most adversity in life does not come with the luxury of a trail out.
I rowed the entirety of the Canyon with no incidents and clean runs at most of the rapids. The river gods truly smiled benevolently on me, for which I am grateful.
I want to go again.
Lessons Learned /Take-aways:
Never take inexperienced people on a small permit GC trip. While they might fare fine on a trip with 16, with 8 an outcome like we had with 2 hiking out is hard on those who remain and leaves you with a lower margin of safety.

21 days is a LONG TIME. Vet your people thoroughly…..and then vet them some more.
Carry Z-drags in multiple boats. We were hampered by the only Z-drag on our trip being in the boat that wrapped. I have mixed feelings on this because flipping is a much greater risk than wrapping on the GC. There just aren't that many wrap spots – but it surely hurt us having only one.
Carry a back-up to the SAT phone. We had an InReach, but it was also in the wrapped boat where the SAT phone was. Ironically, we had talked about needing to be sure we did NOT do this, but it happened inadvertently at precisely the wrong time.
Be in great physical shape for the GC. The physical toll of rowing long hours every day coupled with unloading and reloading boats is significant. You cannot be too in-shape for a GC trip, especially if it's a small one where the workload is heavier.
If I'm fortunate enough to get another GC permit I would opt for the 16 person version, 12 people at a minimum. The workload and duration are such that it's best to have more people to spread out all the work. If an 8 person trip was my only option, I would want all 8 to be experienced rowers with prior GC trips – or comparable experience - under their belt.
Layover days are wonderful. I cherished each one that we had. Because of the wrap, we had to scrap one, which is fine – that's part of why you have them, but on a 21 day trip 4 lay over days is just about perfect.
Have a solid and reliable trip leader. Our trip leader was outstanding and was instrumental in making the trip run more smoothly than it might have otherwise. He was especially critical when adversity struck, keeping a cool head and persevering despite the boat being seemingly unsalvageable. Though I was the permit holder, I had never been down the GC so appointed a river veteran as our on-river trip leader. It was the very best decision I made.
Final thoughts:

When I initially came back, and for much of the latter part of the trip, I was focused on my anger and frustration at the two who hiked out. My opinion remains that they weighed the scales and concluded their safety mattered more than the safety of the group, which is not a value system I find admirable or commendable.
Since returning, I've tried to readjust my thinking about our trip, focusing more on this truth:
In a lifetime of rafting, what are the trips we remember, learn and grow from? Which trips build character, resolve and resilience? Which trips impart invaluable experience and knowledge that make our next trips safer? We've all had trips where nothing goes wrong and are without incident, but are they as instructive and memorable? Great stories, important lessons and memorable retellings are born out of adversity, especially when that adversity is overcome.
I learned a lot from this trip, more than any single raft trip I've ever been on. We could have had a perfect trip – with no flips, wraps or walk-outs – but how much fun would that story be to tell people? Perfect trips just get melded into that large faceless blob of numerous perfect trips where nothing dramatic happens. Smooth trips are great fun and should always be the goal – but it is the trips with incidents and adversity we remember most, learn the most from, and which we love to rehash a thousand times over with friends, family and fellow whitewater enthusiasts.
I come away from this trip with an appreciation for it being exactly as it was and chock full of memories I will never forget.
Photos submitted by Paul Vermilya