Trip Report: 2023 McKenzie River Non-Rafting Trip
2023 McKenzie Non-Rafting Trip
Submitted by Steve Adams
If you've ever tried to book the Horse Creek Group Site near the McKenzie River, you'll know how difficult it is to do so, and how many mornings you get up the year before to try to submit, only to see it booked out for another week or two. So, in summer 2022 we decided to go for a full week in 2023 to try and get it – and WE FINALLY SUCCEDED!! For a full year Brenda Bunce and I were looking forward to spending the entire week of Aug. 13-20 in this fantastic campground – days spent rafting, hiking, cycling, sitting in hot springs, and enjoying the camaraderie of friends.
Heading down there, we knew that the Lookout Fire, a lightning caused fire which started on Aug. 5, had been smoldering along in the next river valley over, but had grown to only 250 acres in a week. Also, the larger Bedrock Fire was burning in the Middle Fork Willamette valley to the south. Our main concern, though, was with smoke and how bad it may be; driving up the McKenzie, there was some higher elevation smoke, but the valley was clear. Brenda and her sister, Erica, arrived around 2 PM and unlocked the gates, us and others showed up around 4-5 pm. We all set up our camps and started to settle in.
Brenda, Erica, my wife Eve, and I decided to take the short drive over to McKenzie Bridge for dinner. What had been an un-concerning Lookout Fire a few hours ago, had suddenly developed into ominous grey and orange clouds of smoke nearing the crest of the ridge north of us.
We spoke with a fire chief from Springfield, but he didn't sound too concerned about the progress of the fire or of us camping on Horse Creek. After we ordered dinner and seated ourselves in the outdoor patio, an increasing number of fire trucks and fighters started showing up. When we saw a fire engine with Nehalem Bay Fire stenciled on it, we knew the call for support teams had gone out many hours before. Next thing we know, the restaurant manager informed us around 7:30 that a Level 2 Evacuation order had been issued, and no dinner would be forthcoming.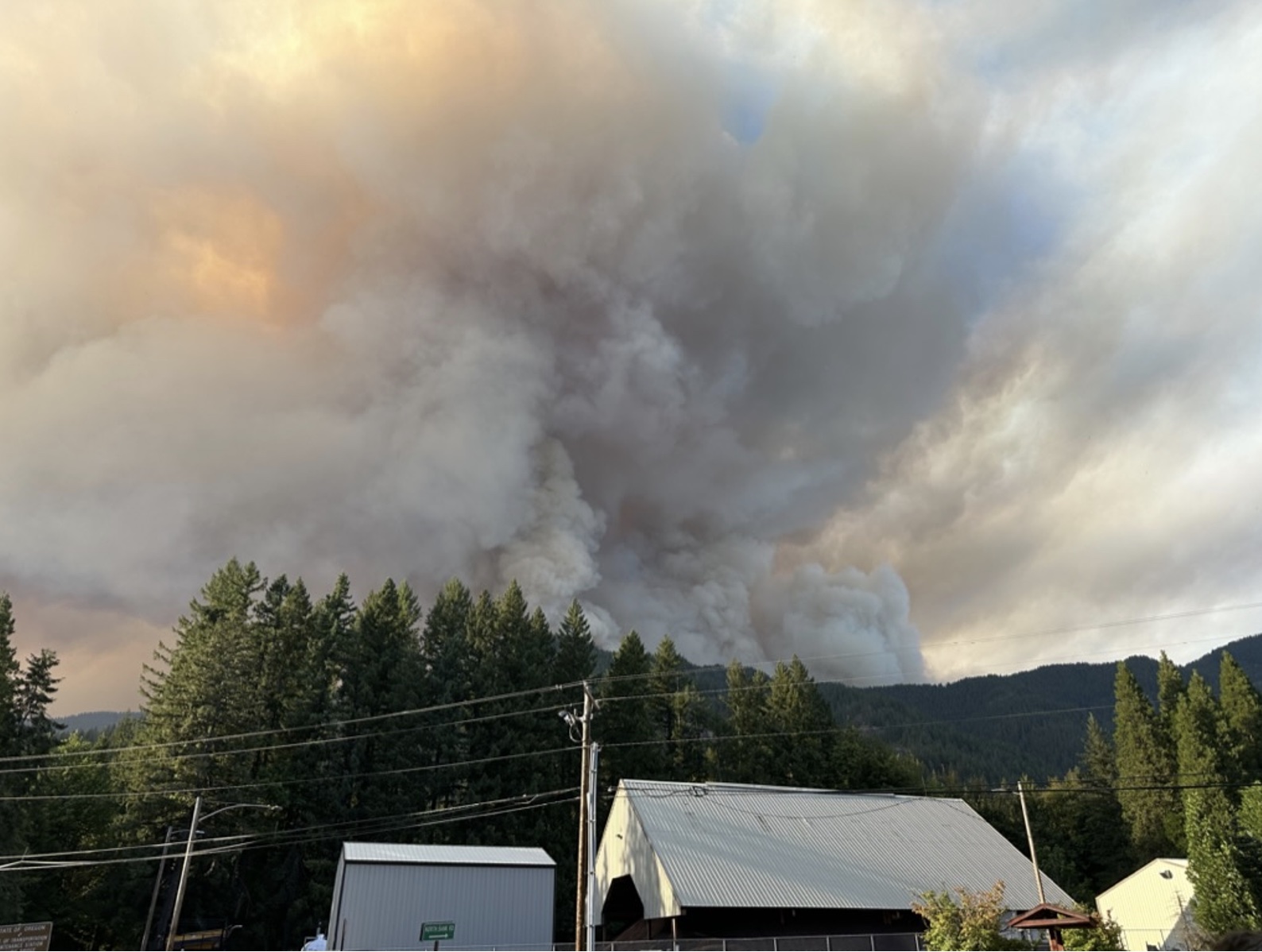 Soooo… OK, we stood outside and watched the menacing columns of smoke and chatted to some other folks about plans and the seriousness of it all. With the Horse Creek Campground located on a one-way in road off Hwy 126, none of us relished the thought of being trapped should the wildfire cross the ridgeline and descend down to the McKenzie River. We headed back to the campground, informed all others, and we all packed up and left (good choice as the Level 3 Evacuation was issued at 10:30 that same night). And so much for a week of camping and rafting on the McKenzie and off for all of us to find a Plan B for the rest of a week's vacation. From Aug. 13 to Aug 15, the Lookout Fire proceeded to grow rapidly, hitting 1500 acres, and by Aug. 20 was over 5,000 acres, and as of Aug. 31 it sits at 25,000 acres!
The good news is that as I write this, the fire maps show that Horse Creek Campground has been spared from the flames; however, other old growth areas along the McKenzie River Trail appear to be within some of the fire boundary. We'll hope for the best in May 2024, when the next McKenzie River camping/rafting trip is scheduled.