Trip Report: Snake River Hells Canyon
Snake River - Hells Canyon
Submitted by Kevin Buck
Our crew of 14 launched below Hells Canyon dam on Saturday, August 26 on a 4 day trip, taking out at Pittsburg Landing, 32 miles downstream. I was invited by a friend from Salt Lake City and the TL and most of the others were scientists or professors associated with Oregon State University, past and present. When I first heard about the trip, I assumed we were going from the dam to Heller Bar in 4 days, and having floated the 20 flat miles from the confluence of the Salmon to Heller Bar a month prior, my first reaction was "no way!" As it was, we camped just above Granite rapids on night 1, then did a layover day at Pine Bar at about mile 20, before floating out to Pittsburg on day 4, at a very pleasant and relaxing pace.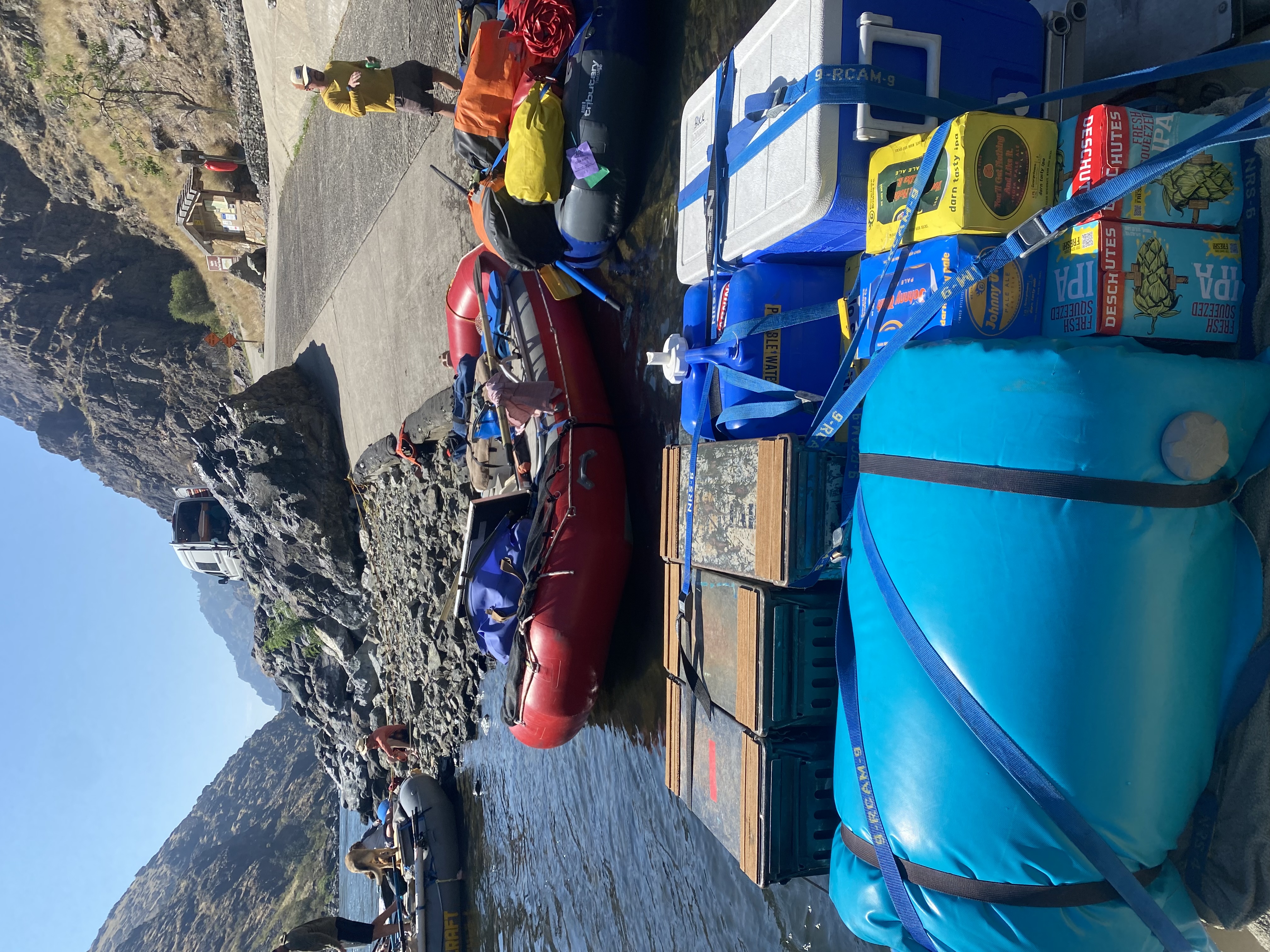 My first time on the Snake was August of 1988 so it was like the first time, which is always nice. Sadly, from a whitewater viewpoint, the dam builders located Hells Canyon dam in the geographic center of Hells Canyon, and between Oxbow dam and Brownlee dam, most of the river has long been flooded (for hydroelectric power). If the dam builders had their way, the proposed 550 foot "Pleasant Valley" dam below Pittsburg Landing would have flooded this entire stretch with a pool all the way to Hells Canyon dam!
However, we made the most of what remains and conditions could hardly have been better. No wind, clear skies and no smoke!
The two last big rapids, which were once a long string of big rapids, are encountered in the first 8 miles, Wild Sheep and Granite. We didn't scout Wild Sheep and then we camped at Lower Granite camp just above Granite rapids. The naming of the camps comes from Granite creek entering on the right, and upper and lower Granite camps are named given their proximity to the creek, not the rapid.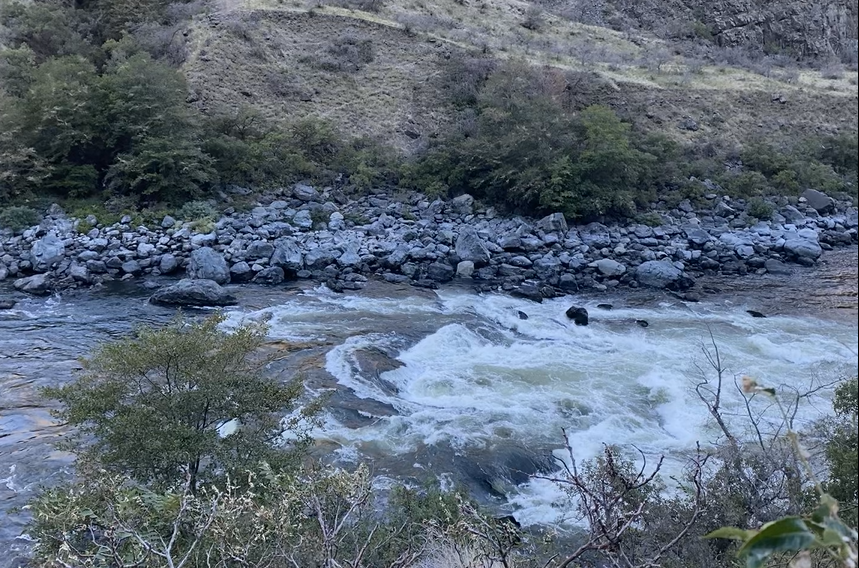 Day 2, most of us walked down to scout Granite and we were glad we did as it was more difficult than Wild Sheep. However, upon surveying our boats that morning, we found them all high and dry on the rocks, with the river an easy 5 feet lower than the evening before. I was aware the flow would fluctuate, but seeing some 10,000 cfs drop out was a visual surprise! Fortunately, other than me, the crew was 20 and 30 somethings and each gear boat was carried down to the water with seemingly little effort. A smaller group with less youthful strength would probably need to unload boats, try to use long lines to keep them floating, or wait until late morning for the water to rise again.
Being the weekend, we also had to contend with a lot of jet boat traffic; big commercial boats and a variety of private parties, zooming up and down the river most of Saturday and Sunday. I will add that without exception, the jet boat captains were courteous and patient, and without a single political type flag.
We stopped at Saddle Creek on river left for lunch. This would make a great night 2 camp, but we floated on to Pine Bar where we planned to layover on day 3 (which turned out to be a great call).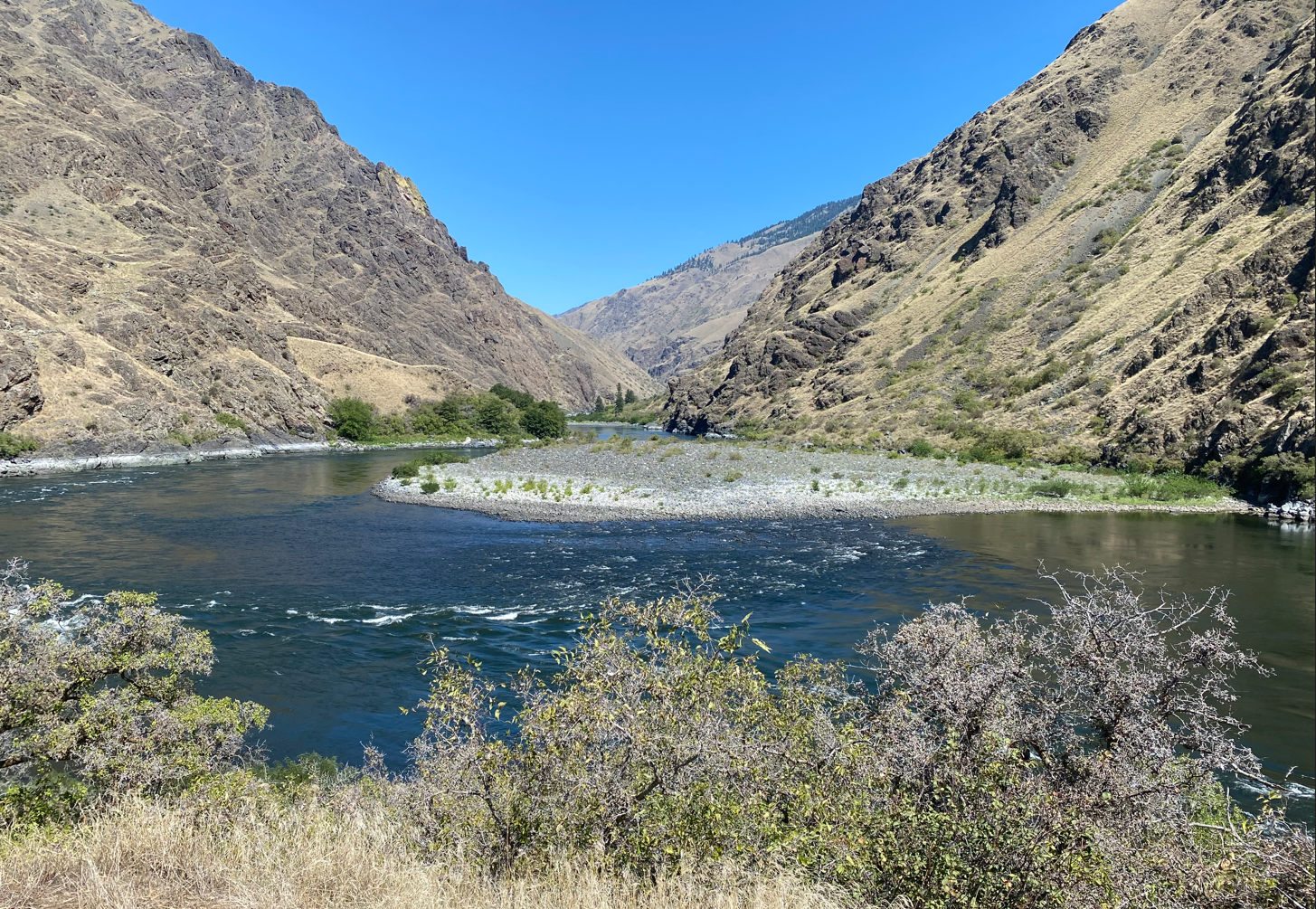 Pine Bar on river right was a great camp, including a cobble and a sand bar island perfect for beach games, shade tarp and swimming. We had to move quickly the morning of day 3 to rig the shade tarp and claim our ground, for as we soon discovered, it was a prized jet boat beach too. However, being Monday, the traffic was dramatically less and only 4 jet boats came in, no doubt disappointed we were there and weren't leaving for the day. Sand is rare on the Snake due to the lack of silt caught by the dams and daily 10,000 cfs fluctuations this time of year.
After lingering until the water started coming up on day 4, we floated the 12 miles down to Pittsburg Landing. The road over the Seven Devils range to White Bird ID is slow, steep and winding, but it's a well maintained road and scenic.
The very nice concrete ramps at the launch and here show the jet boats are encouraged.
This was the first trip I've had in a while where I found myself thinking about the pros and cons of the river and whether I would do it again. In the end, I definitely would, but I think next time I would plan it so I can ice up in White Bird and then float the 75 miles down to Heller Bar.
From my perspective, the cons were heavy jet boat traffic (I would avoid the weekends next time), significant flow variation which leaves boats high overnight, removes most of the sand, and creates a rather sterile riparian zone, if there even is one. The pros are a clear and surprisingly warm river (I expected the water to be frigid coming from the dam), a stunning canyon of eroded basalt flows and hard rock inner canyons, and great camps...although few and far between and with little to no sand or cobble above Saddle creek.