ROTM: Dutch Oven Southwestern Beef Casserole
Dutch Oven Southwestern Beef Casserole
Submitted by Scott Ogren
Ingredients
2 lbs Lean Ground Beef
1 tsp Salt
2 Tablespoons Ground Black Pepper
2 Tablespoons Basil
2 Tablespoons Ground Parsley
1 tsp Ground Chili Powder
2 Yellow Onions
4 Red/Yellow/Orange Bell Peppers
2 Cups Mushrooms, Thinly Sliced
(2) 16 oz Cans Kidney Beans, Drained
(2) 16 oz Cans Corn, Drained
2 Cups Cheddar Cheese, Shredded
32 oz Tomato Soup
1/2 Cup Red Wine
2 Cups Crushed Tortilla Chips
Directions
Mix ground beef, salt, black pepper, basil, parsley, and chili powder so that all ingredients are evenly mixed together.
Dice peppers and onions and place in Dutch Oven with meat mixture. Cook with 8 to 10 coals on bottom and 18 coals on top until beef is thoroughly cooked. Lift lid only to stir ingredients and replace quickly.
Place all remaining ingredients except tortilla chips in Dutch Oven and cook with 8 to 10 coals on bottom and 18 coals on top for 2 to 3 hours.
About 10 or 15 minutes before the casserole is done, stir in the tortilla chips.
Notes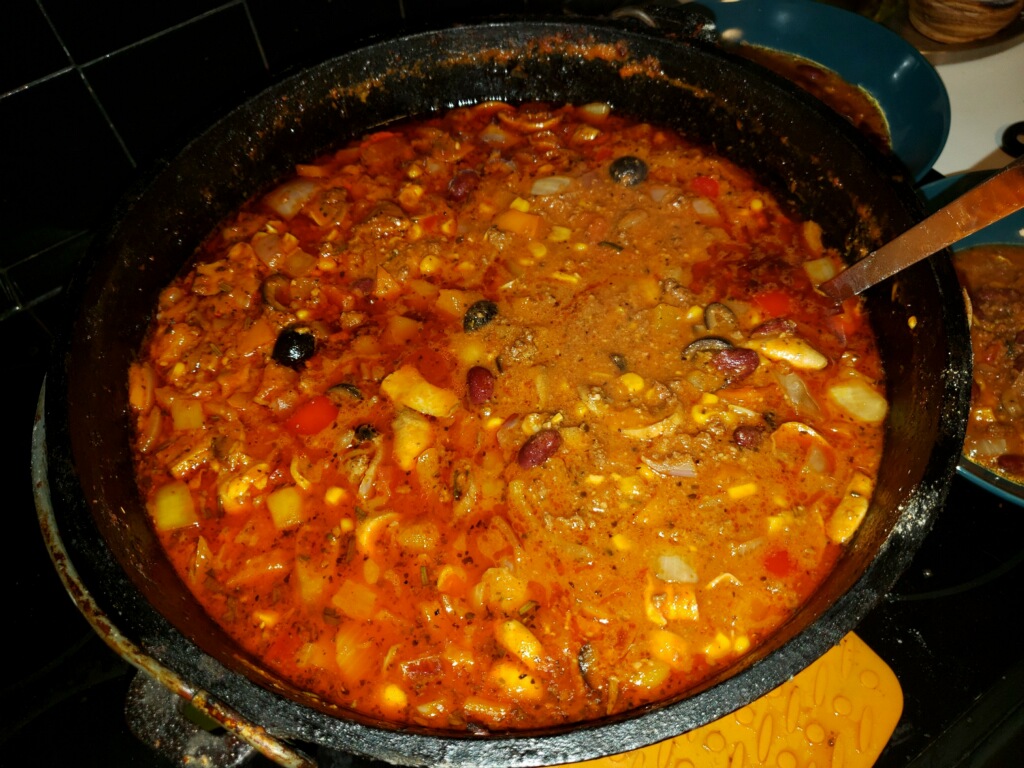 Browning the meat takes a little while, so if you are making this as a true one pot Dutch Oven meal, then have enough charcoal on hand to replenish at least one or two times.
If making on the river, the meat mixture can be mixed together at home and that makes this a very easy river meal
Serves 8 to 10 hungry rafters.
This recipe was passed on to Scott by another rafter. He would love to give credit to the original author . . . if he could remember who it was. If this is your recipe – Thanks! It turned out delish!