Trip Report: Rogue River, In the Rain! - Feb 2021, ~12,000 cfs
Rogue River - In the Rain!
Submitted by Jared Linkhart
02/17/2021, Grave Creek to Foster Bar, rising to approximately 12,000 cfs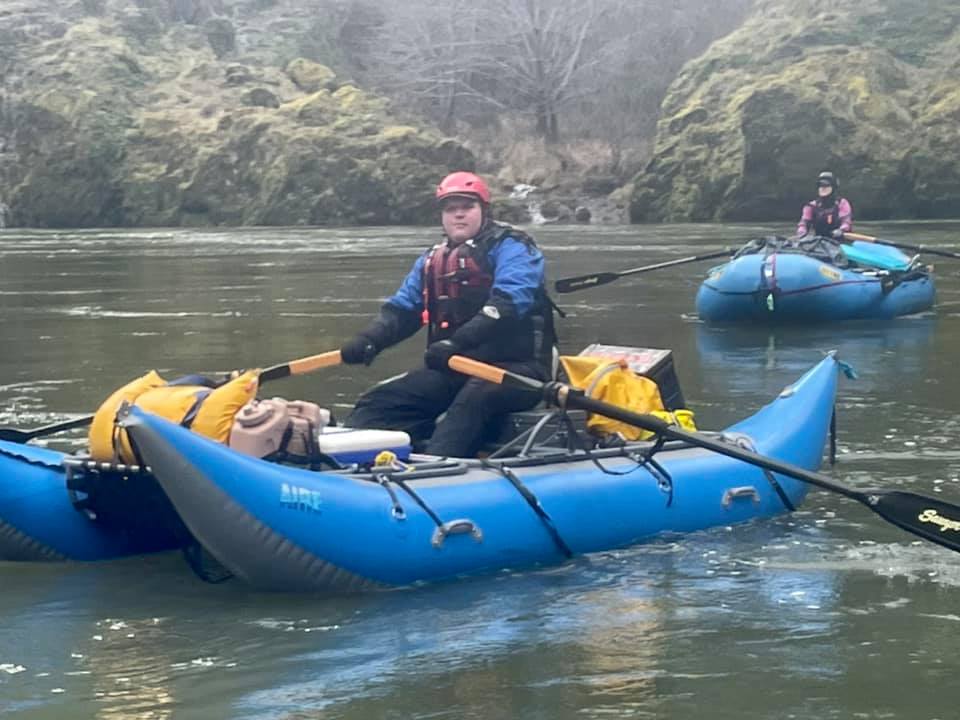 Sometime in January, I got a text from my friend Pete about a Rogue river trip happening in February. Now Pete has been very consistent to invite this northern Oregon boater on his southern Oregon trips, and I have really wanted to accept those offers. Finally, the stars aligned, and February 17th I started my journey to the mighty Rogue river.
The forecast for both river levels and rain were on the juicy side. We launched from Grave Creek into a greenish to brown covered Rogue, and quickly made our way down to the first large rapid, Rainie Falls. One brave soul took the left channel in his 16-foot Aire Lion, and made a pretty clean run of it. Bob's response at the bottom was a smile, and "I'm six for six" (on running Rainie without flipping).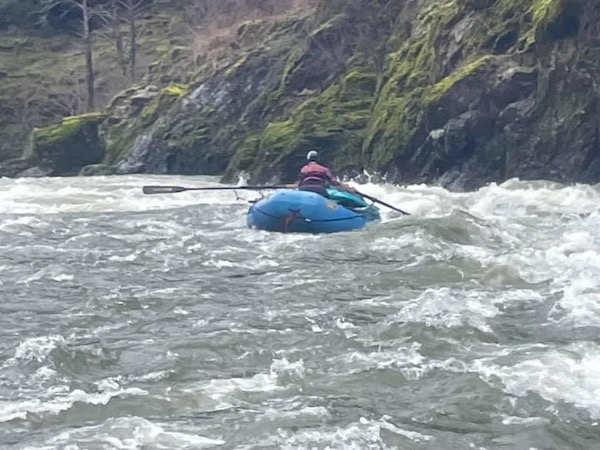 The rest of us, familiar with our options, took the Fish Ladder route. On Tyee, we had one swimmer out of a raft, but he was quickly back in his boat and we continued on through Wildcat, Black bar, and a host of fun, splashy rapids. We stopped at Horseshoe to consider it as a camping option, but the upper beach didn't look like a good idea with rising water and the lower beach at the bottom was all but gone. I have seen the water sharply rise at Horseshoe Bend. On that trip several years ago, we spent the better part of our morning chasing loose boats all of the way to Winkle Bar. I learned a valuable lesson from that trip - I always tie my boats up at night.
Photos: Jared Linkhart, Christine Cormack by Marco Fragoso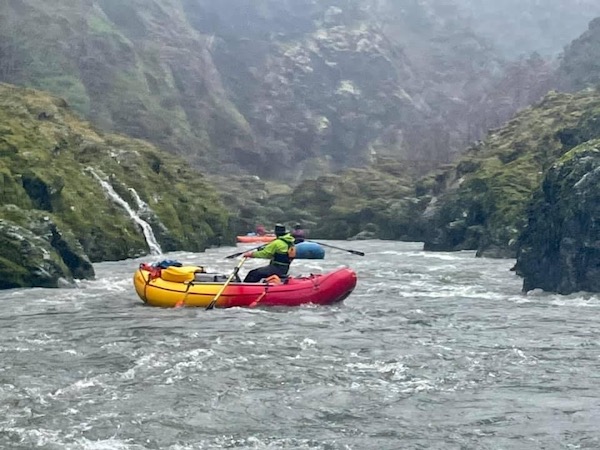 We had made such great time that the decision was made to shoot for Missouri Bar, still miles away. I've always been partial to this Missouri Bar, the home of Gerald Frye until 1987. He was born and raised in Marial just downstream, and was caretaker for Zane Grey's cabin just upstream. If you have never stopped there, I recommend that you do. There is a small covered structure within sight of the river and a small memorial plaque to Gerald at the structure. There is also a high water marker showing the level of the 1964 floods - very impressive.
It was only a little after 2 pm when we set up camp. We had a great dinner (despite the author forgetting buns for the gourmet burgers) and I slept well that night, even with the pitter patter of rain on my tent all night long.
The next morning, I woke up and quickly peered out to my boat to see it floating over the beach I had drug it up on the night before. The river had risen over 6 inches while the rain fell overnight! We weren't sure what the water level was, but all of the green was gone, and now it was pretty much high-water brown.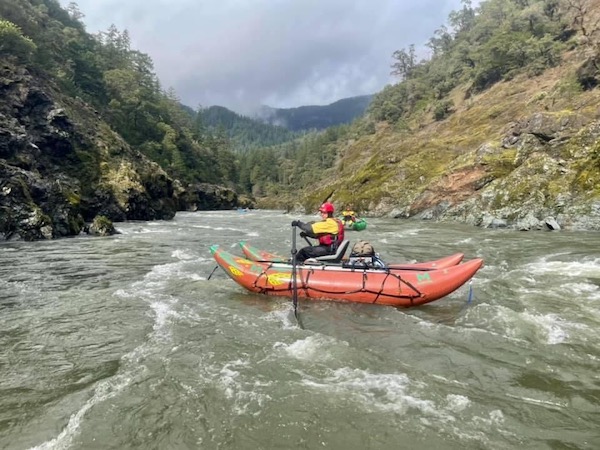 We had a fantastic breakfast, and started to break camp for what was surely going to be an exciting day. The rain continued through morning as we stowed wet gear and got things packed. My morning got interesting when the YKK zipper on my 20-year-old OS drysuit decided it had enough and separated from the seam.
I called my good friend David Pauli over to help with the zipper and assess the damages. His first response was not encouraging, but he managed to get the zipper re-started on the track, and I now have a 1/2" gap at the top left side of my zipper. Everyone in camp quickly got set for the day, and I made sure to check every strap on my boat, I didn't want anything coming out should I take a swim.
Photos: Scott Letourneau enters Mule Creek Canyon, David Pauli by Marco Fragoso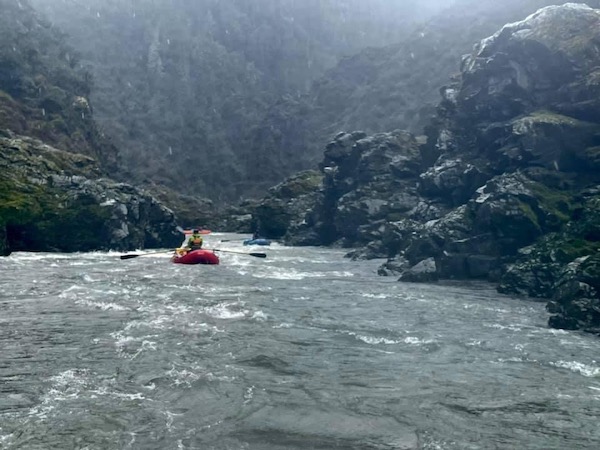 The water was even faster and pushier than the day before, and the color change really added to the effect for me. Only a couple of miles into our day we were at the top of Mule creek canyon, however it looked much different than normal. The normal entry rapid simply wasn't there, along with the "horns" on river right. The rapid was pretty much just a fast current into the canyon proper, only we seemed to be roughly 6 feet higher than normal. However, even with all of that water moving through the narrow gap, we all managed to cleanly get through just fine.
When we got to the bottom of the canyon at Inspiration Point, the water didn't slow down. We once again were making record time to Blossom Bar, the big finale of major rapids along the Rogue river. The next few minutes we spent discussing right or left lines we could take at this kind of level at Blossom Bar. I'd seen some people take the right side at high water, but I honestly didn't know what to expect today. I decided that I had never taken the right side line there, and didn't know when I'd return to these conditions, so I committed to following some of my more experienced friends down the right side.
The water was moving very quickly at the top before the rapid even started. Nobody had plans to scout and frankly it would have been difficult to safely scout there. We lined up and every boat ahead of me disappeared into the chocolate maelstrom below the guard rocks at the top. I heard someone yell swimmer ahead of me, but I didn't have a view of who it was.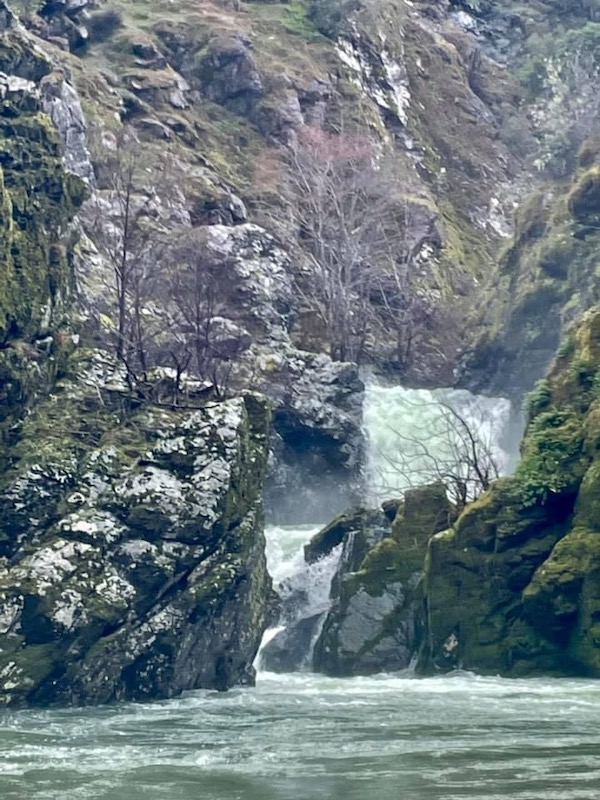 I got one good look at the top, and didn't see an exposed rock in sight. All I saw were large waves and holes formed by rocks that are usually out of the water by several feet. I head counted the boats below, and everyone was upright and accounted for as I made my move. Even though the rapid was large, it was pretty easy to pick a clean line through. I pulled over at a small eddy on the right toward the bottom to set safety for our last two boats. Christine and Dan both had decided to go left, and went right over the top of the picket fence in a wave train that moves you to a clean center line as you move down the rapid.
I found out at the bottom that Scott had fallen from his raft, but didn't even really get his hair wet. He spider monkeyed back in the raft so fast I never even saw it happen, and he didn't lose his hat. We continued on after a brief celebration at the top of Devil's Staircase and we made it to camp at Tacoma by 2 pm again. We got camp set up in the rain, and I took a nap!
Photos: Scott Letourneau at Coffeepot, Father and son duo Brian and Will Helman navigate the Rogue, StairCreek Falls by Marco Fragoso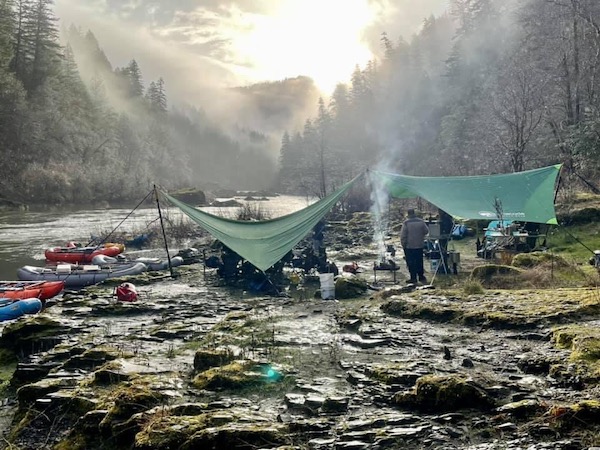 We had another wonderful dinner, and discussed the details of our trip, the water level, and the amazing number of waterfalls we had seen over the last two days. Most of us surmised the water level to be 10,000 to 14,000 cfs at the Agness gauge, and it turned out we were pretty close. The level was 12,000 at Agness when we ran Blossom Bar.
The next morning, we got up and got moving in anticipation of the long drive back to Portland. We arrived at Foster Bar before noon, and the concrete ramp was completely covered up. We said our goodbyes to new and old friends alike, with plans of another Rogue River trip already being discussed.
Winter trips like these are special. The rain was persistent, and we really had to manage the risks that came with a rising river. However, the canyon was spectacular with all of the side creeks creating incredible cascades you never see at other parts of the year. This group had a great attitude and the rain didn't really spoil our fun at all. I'd happily accept another invitation with them again!
Photos: Morning time at Misouri Bar. Special thanks to trip passenger and photographer Marco Fragoso