Wilderness First Aid 2021
Save Me First! WFA 2021
Submitted by Heather Garrison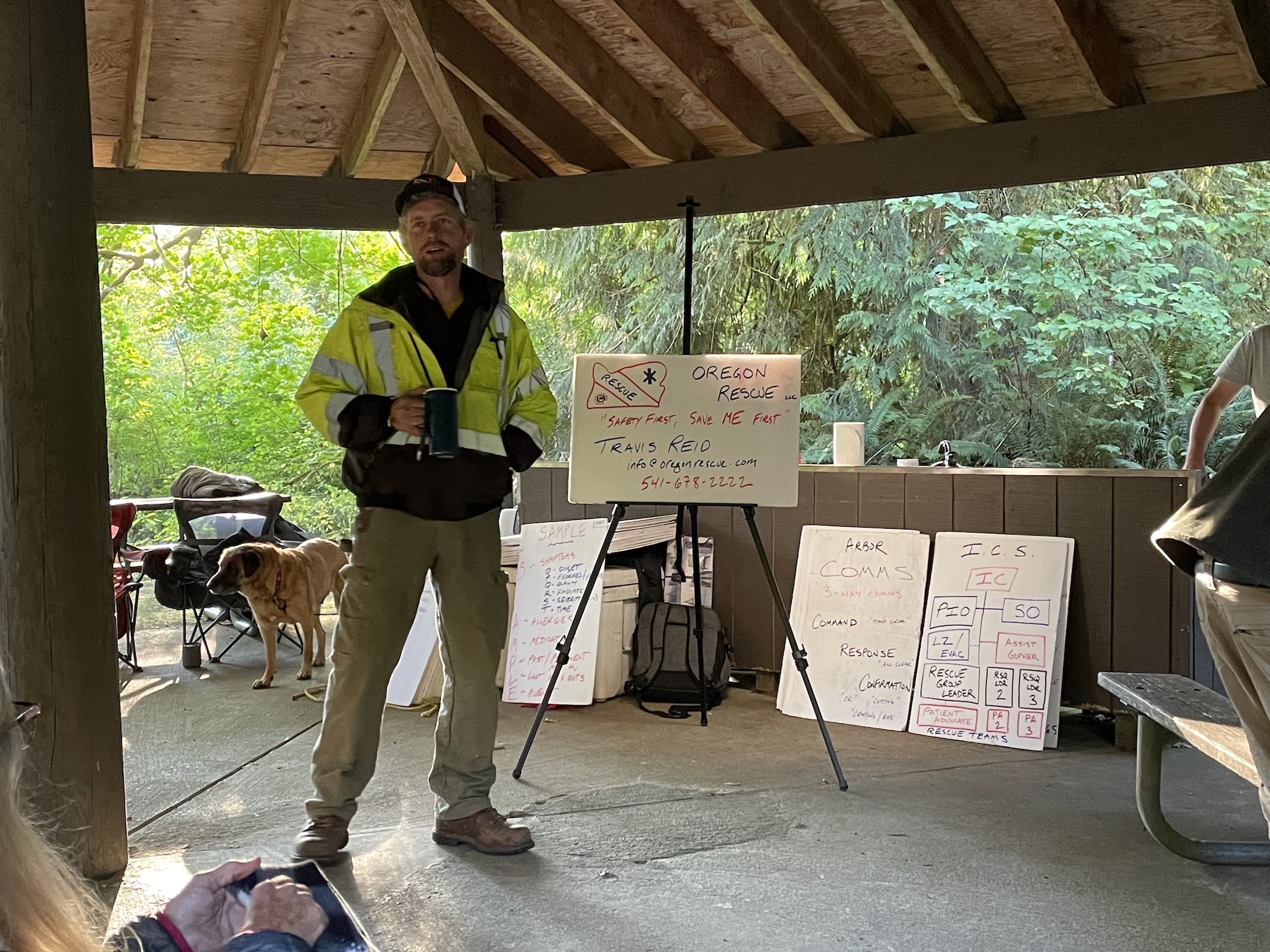 Over the last weekend of September, just over 30 OWA members gathered in the beautiful forest of Estacada's Milo McIver Park for the club's 2021 Wilderness First Aid course. 2020 was filled with challenges for all, and it definitely presented some unique ones to the club. Due to Covid concerns and devastating local fires and its impact on some of our beloved wild areas, the club made the decision to not host the training in 2020. As the planning began for the 2021 course, many of these challenges persisted. Several of the training exercises and practice sessions needed to be modified to adhere to safe Covid practices. Also, our normal place we used for training suffered terrible fire damage. Several club members spent many weekends scouting and figuring out an appropriate venue for this year's training. The new spot did not disappoint. We reserved the Maple picnic shelter which is in a beautiful secluded section of the park with a shelter, water, electricity, a beautiful forest with trails and a couple of large field areas which gave lots of options for our training exercises. We also lucked out with a fantastic weekend for weather - that perfect mix of crisp fall mornings and blue sky warm afternoons. There was also camping available for those who wanted it. We had 4 beautiful sites to share, great conversations and even fun sing-alongs.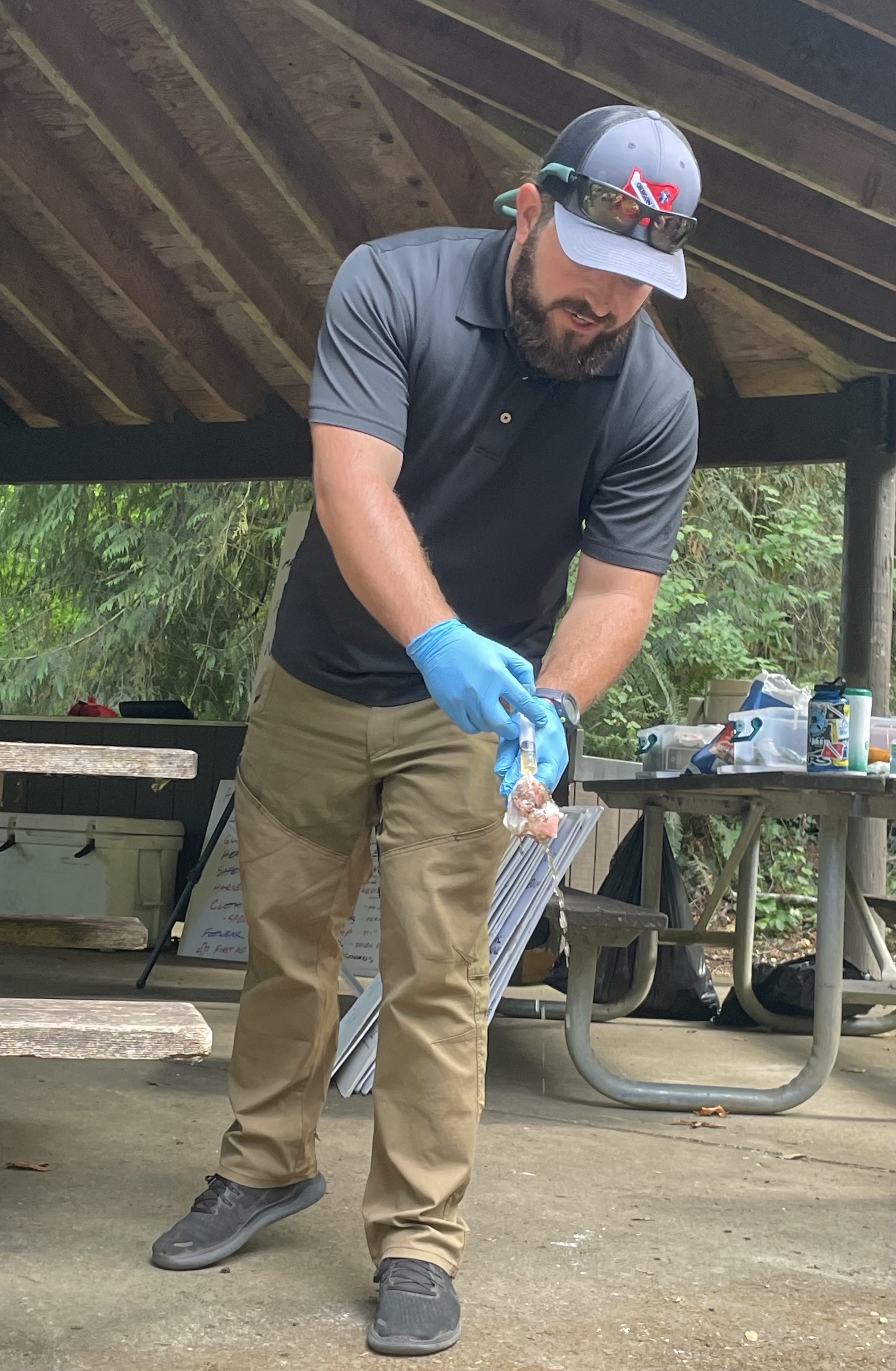 The course was led by Oregon Rescue and the amazing Mr. Travis Reid. He came with his team of Matt Millar and AJ Untermeyer. The day started out with a dramatic - and painful for some - REAL medical emergency as our path from cars to pavilion had a large yellow jacket nest that was disturbed by our activity. Those little bees stung a number of our team. Luckily, the reactions were only painful and not life threatening, but it served as our first example of patient treatments and scene management.
Once the bees and humans had gone their separate ways, the training started out with a lovely welcome from Travis, followed by a brief history of the Safety programs of the OWA by former OWA President, Bruce Ripley. From there we dove right in!
Travis and his team presented Patient Assessment Systems, Scene Assessment Systems, and countless medical topics including Burns, Allergies, Stroke, Shock, Cardiac, Spine, Respiratory, Bleeding management, hypo and hyperthermia and so much more. We had practice time for full body patient assessments, CPR, AED, patient packaging and transportation, wound debriding and much more.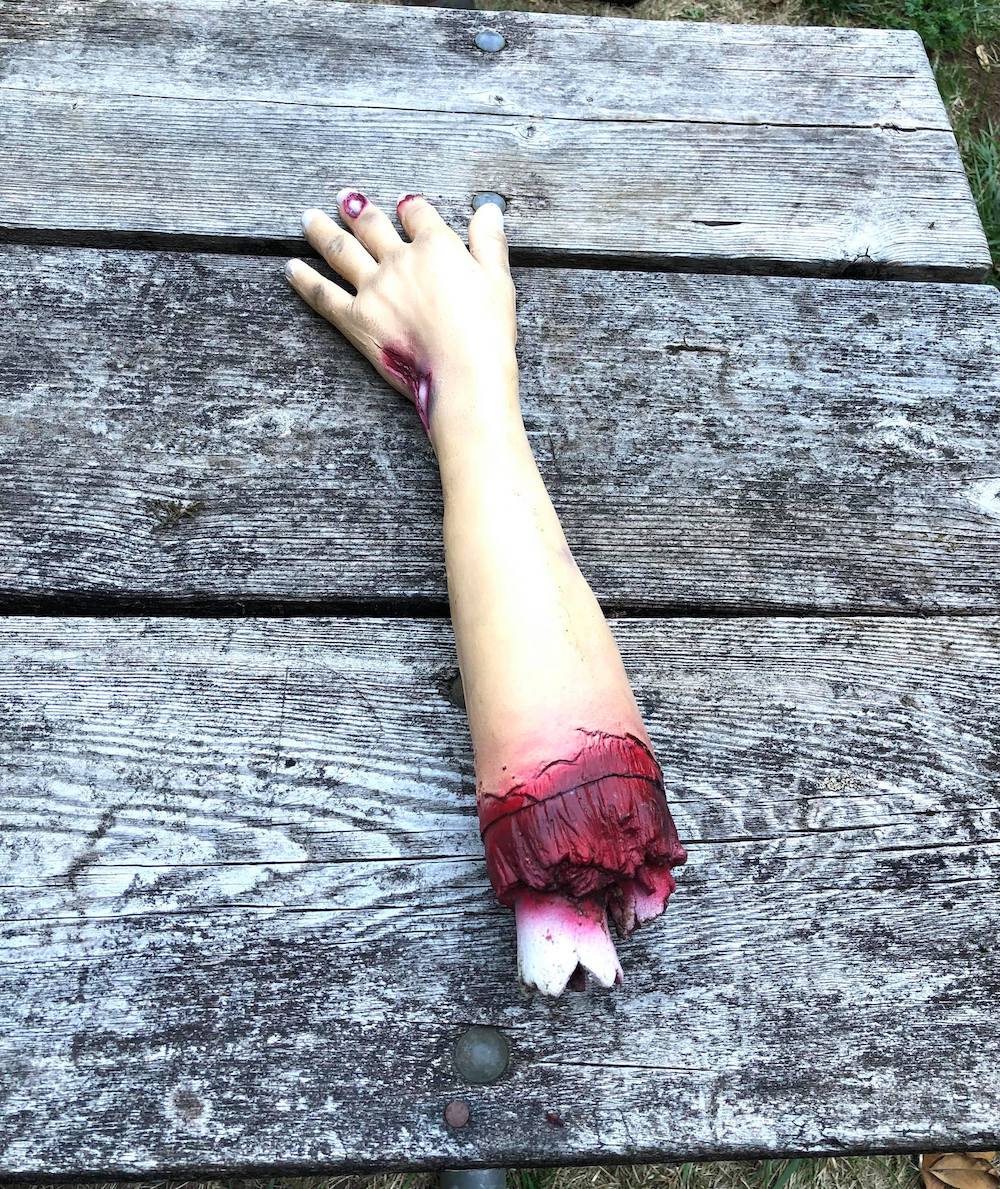 Both days we had sessions for injury evaluation Speed Dating. We broke into two groups, divided over the very large area into individual stations and had opportunities to present an injury or illness to an evaluator, and then opportunities to be the assessor ourselves. We practiced diagnosing and creating treatment plans for issues including low blood sugar, appendix, allergies, head injuries, altitude sickness, spider and snake bites…. AND some tricky injuries that were tough to diagnose and notice. 'Should I worry about…. THIS?' All while Travis joyfully sang to us The Clash of course.
...Should I stay or should I go now….

On both afternoons, our instructors staged traumatic incidents that allowed us to put all of these skills to work, including how we communicated as a team. Practicing locating, assessing, transporting, treating multiple injuries has lot of moving parts. Being able to practice various roles in this was so valuable. We all definitely felt the benefits of the practice by our final scenario on Sunday afternoon.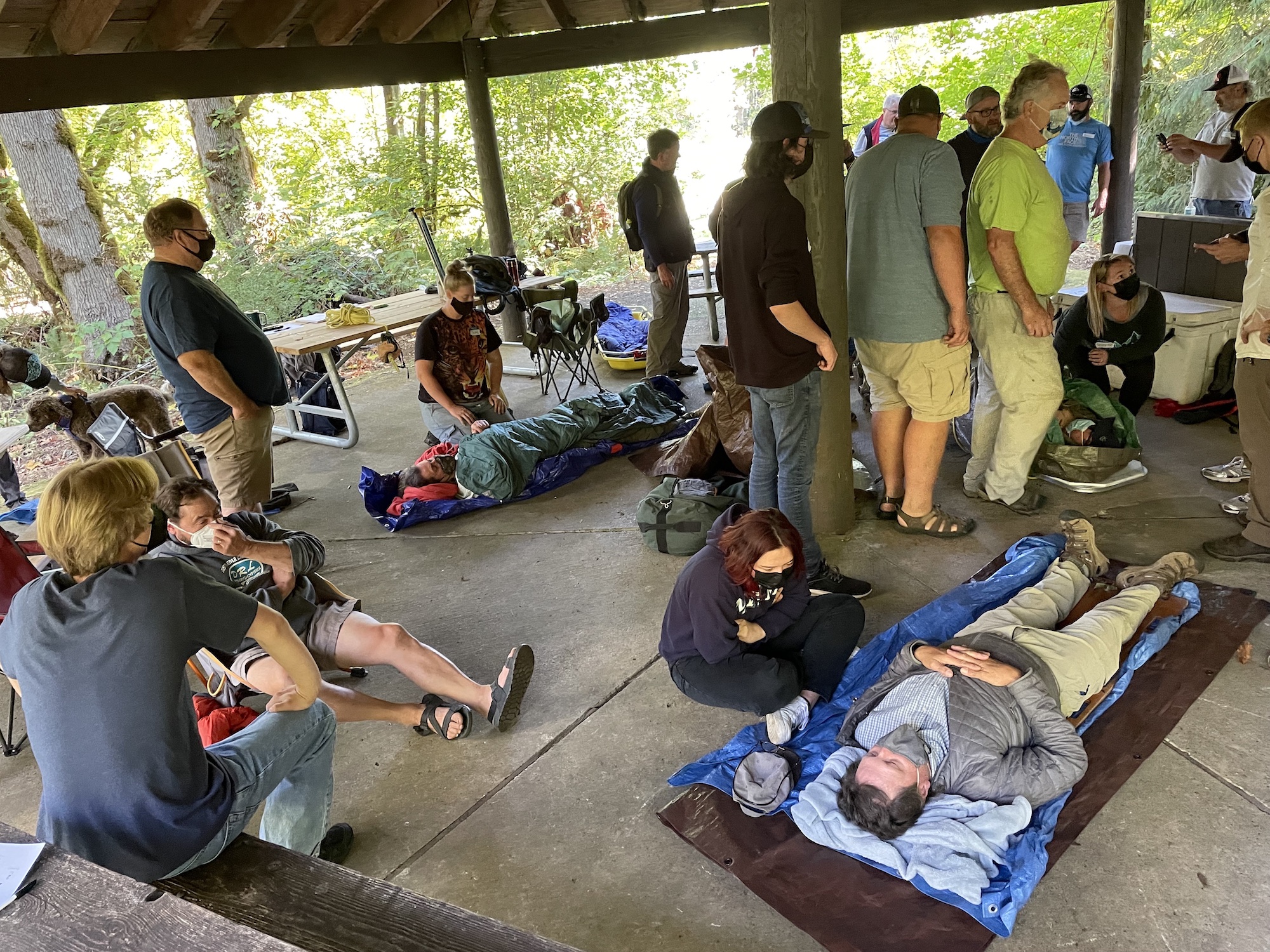 Another valuable piece of this training was reviewing our medical kits. Valuable discussions on what we keep in them, how we organize them and where we keep them on our boats. Another benefit of the OWA is the beautifully curated medical kits they have put together and maintain. These were available for us to review and discuss throughout the weekend. Also, a reminder here that these kits, as well as AEDs are available for club members to check out for use on OWA or private trips.
This was my second time taking this class with the OWA, and fourth time in my adult life. It is amazing to me how much I learn each and every time. There is so much information packed into this course, continued practice and learning is key. I also really valued classmates sharing stories of scenarios that they had encountered, how they handled it, and discussions on what worked and what didn't work. Keeping up on these skills, and practicing with the people we boat with is so valuable to ourselves, our friends and family, our club, and our community. Thank you Travis, Matt and AJ for sharing your passion, information and energy with us all. Thank you to the OWA members who volunteered to help make this happen in a number of ways. A big thank you to our favorite Safety Director, Matt for all of the organization, preparation and continuous stream of delicious coffee all weekend. Thank you to the OWA who provides this training at a great discount to our members - funded by annual fundraising efforts and your membership dues. A big thank you to all of you who signed up and took the course, showed up with energy and enthusiasm to learn together.
If you were not able to make it this round, do consider signing up for next year!
Photos by Dan Lawrence, Jerry Malloy, Kimberly Long, Heather Garrison