ROTM: Late Summer Salad with Esquites
Late Summer Salad with Esquites
Submitted by Kimberly Long
No one submitted a recipe this month so I decided to take photos of and share as I finish up this month's newsletter and do my work lunch prep for the week. This salad keeps really well in the fridge for a week, and is tasty enough that I am okay eating it 5 (6 including today) days in a row, so I suspect it would keep well in a cooler on a river trip.
I usually add a mini avocado or individual packet of quacamole to top the salad on the day I eat it. Today I cooked a mess of chilcken marinated in lime juice and cilantro. I have also made it with leftover flat iron steak and vegetarian with black beans or some cumin stovetop toasted chickpeas.
Ingredients
Large package of salad greens of choice
3 ears of fresh corn
Bunch of cilantro
Pint of grape tomatoes
1/2 White or yellow onion
Crumbly white cheese (queso fresca, cotija, or feta)
Juice of 2 limes
2 Tbsp olive oil
1 Tbsp Tajin or lime/chili seasoning
salt and pepper
1 Tbsp apple cider vinegar
Optional Ingredients
Avodado or guacamole to top

Chips or tortilla strips

Protein of choice (grilled chicken or flat iron steak)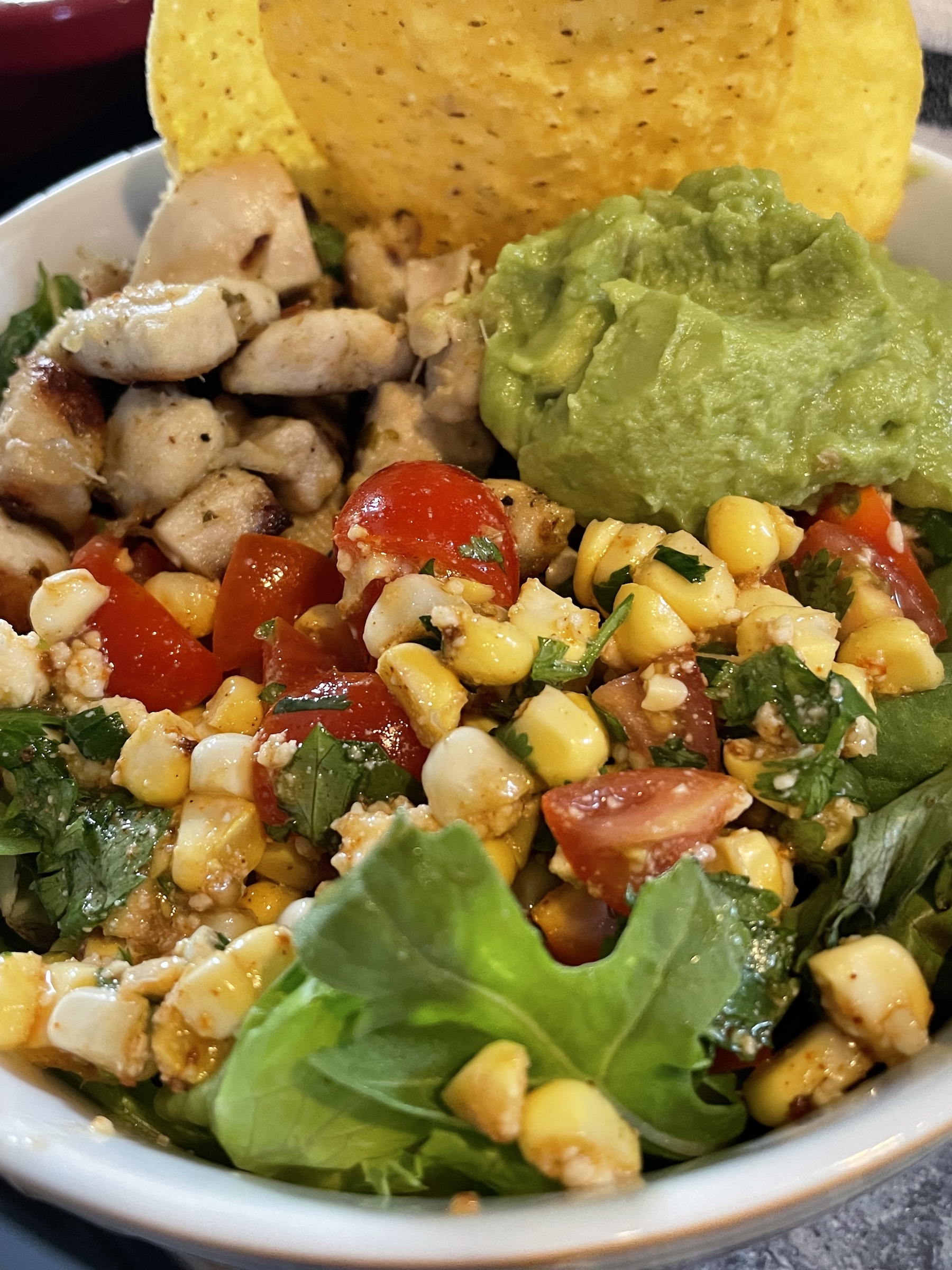 Directions
Cut the corn off of the cob and place in a large bowl.
Shave the leaves off of a small bunch of cilantro. This is my least favorite part. I cook with a lot of cilantro and hate "shaving the leaves" off the stems. If you know a quick, non tedious way to do this, I would love to hear your secret. Mince the cilantro and add to the bowl with the corn.
Thinly slice 1/2 of an onion and add to the bowl.
Add the lime juice, olive oil, and viengar to the bowl (Esquites is traditionally made with a mayonnaise-based dressing. I like a lightly dressed salad so use a simple oil, vinegar, lime juice version. Feel free to alter as you like). Mix together.
Add the Tajin and salt/pepper to taste.
Cut the grape tomatoes into quarters of eigths (or however you like). Add the tomatoes and crumbled cheese (I use a quarter round of questo fresca, probably a 1/4 of a cup) and toss gently.
Divide the salad mix into bowls or plates. Top with the esquites mix and whatever else you would like.
Enjoy!