A Kayak Recovery Story
One of our OWA members recently helped to recover a stolen boat. He prefers to stay anonymous in this story on our public site to keep the kayak thieving crooks from tracking him down.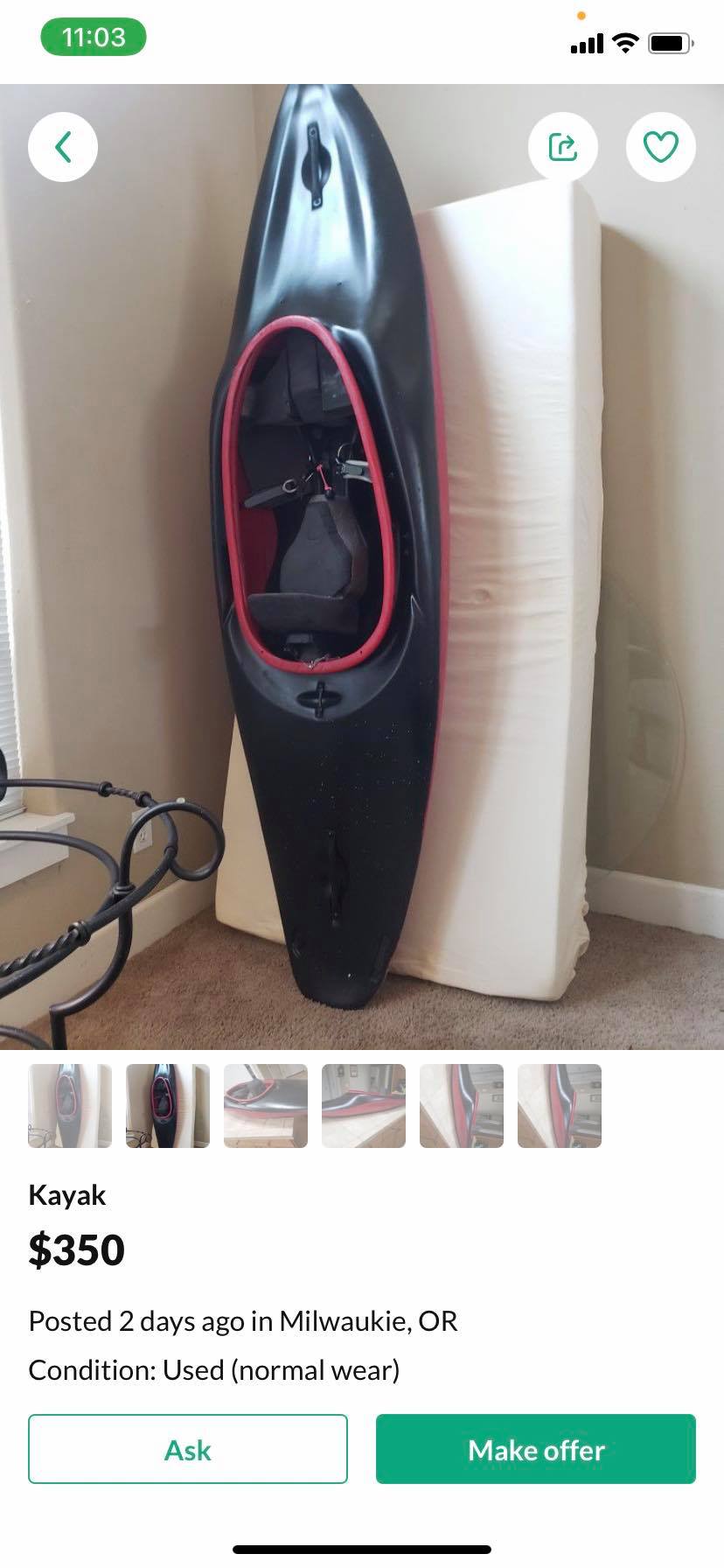 So here's what happened... About a month ago a friend's C1 converted Kayak was stolen off the roof of his car. That kind of thing is rare to see and it's hard to make all the outfitting work properly, so he had a lot of time invested in the boat. He looked around for it online for a while. After a few weeks the boat turned up on Offer Up. We saw the ad and recognized the boat. It had been painted halfway and we could still see the outfitting! So we put in a couple of bids trying to get a response. The seller wouldn't reply to some, but a few of us got replies and tried to arrange a "meet up" to check out the boat. We started to get a conversation going with the seller off someone else's phone on Offer Up. The seller wouldn't respond to boaters so we had to conspire with a non-boater to get a reply. They wanted to meet me at the local church parking which is kind of a hidden parking lot, so I told them I wanted to meet at the grocery store parking lot. I live fairly close to the church they requested so before arranging the meet up a buddy and I rode our bike and skateboard over to the church to scope it out... I'm cruising around the corner on the skateboard and see this old scraggly looking dude sitting with THE KAYAK in his front yard sanding the bottom of it!!! I've seen the boat a lot so totally recognized it! So, I hesitated but continued to ride past slowly and circled back home to rally the troops!
Once I got a hold of a friend, I told him to come my way. We called our local Clackamas County Sheriff and told them what we knew. They were intrigued and willing to help when we "met up" with the seller to look at the boat. We made the arrangements and waited for the guy with the kayak to show. All this time we are messaging the seller through a friend who isn't in the same city. He would talk to the seller and message back and forth with me. Once the guy showed up (in a torn up SUV with junk all over it) we played dumb and acted like I've never seen a spray painted C1 converted Dagger Midevil Full Slice Kayak before . . . haha. Then I quietly texted the officers waiting close by and verified it was the boat. They swooped in from every direction while the seller was looking down still trying to show me how I could even get into the outfitting! They immediately cuffed him and publicly pointed out all the clear evidence and had him give a full confession!! I'm so thankful for the help from local sheriff's department and our tight boating community! It was awesome to see some Justice!!
SYOTR -Anonymous Whitewater Shredder