Trip Report: Helicopter Evacuation on the Colorado
Helicopter Rescue on the Colorado
Submitted by Tom Riggs
We'll start this story at the Jewels on day 10 of our March 2021 Grand Canyon Trip. The crew of 11 departed Schist Camp on a clear but cool morning happy we didn't have to get soaked right away. The boatmen all took the driest route Through Boucher Rapid then continued downstream for the scout at Crystal. River flows were in the normal range of 8500–14000 cfs but of course, you always scout Crystal. Our four-raft contingent all agreed on a far-right run, although the spicy left run was certainly an option but perhaps for a warmer day. Captains Frank Mayer, Greg Ego, Kyle Riggs, and Tom Riggs all snuck around the right guard rock and made clean runs cutting back to the left of the Rock Garden that can mess things up for the group if a boat were to get wrapped there.
Into the heart of the Jewels, rapids named Agate, Sapphire, Turquoise, Emerald, and Ruby are meant for those on their A game. We were up to the task. Except Kyle. Most people who do half trips hike out at Phantom Ranch. Kyle had a different agenda. Sapphire starts out strong and just gets bigger as you run through it. At the bottom of the rapid there were holes all the way across the route that made the boats in front of you disappear then reappear. Hitting them straight was the key.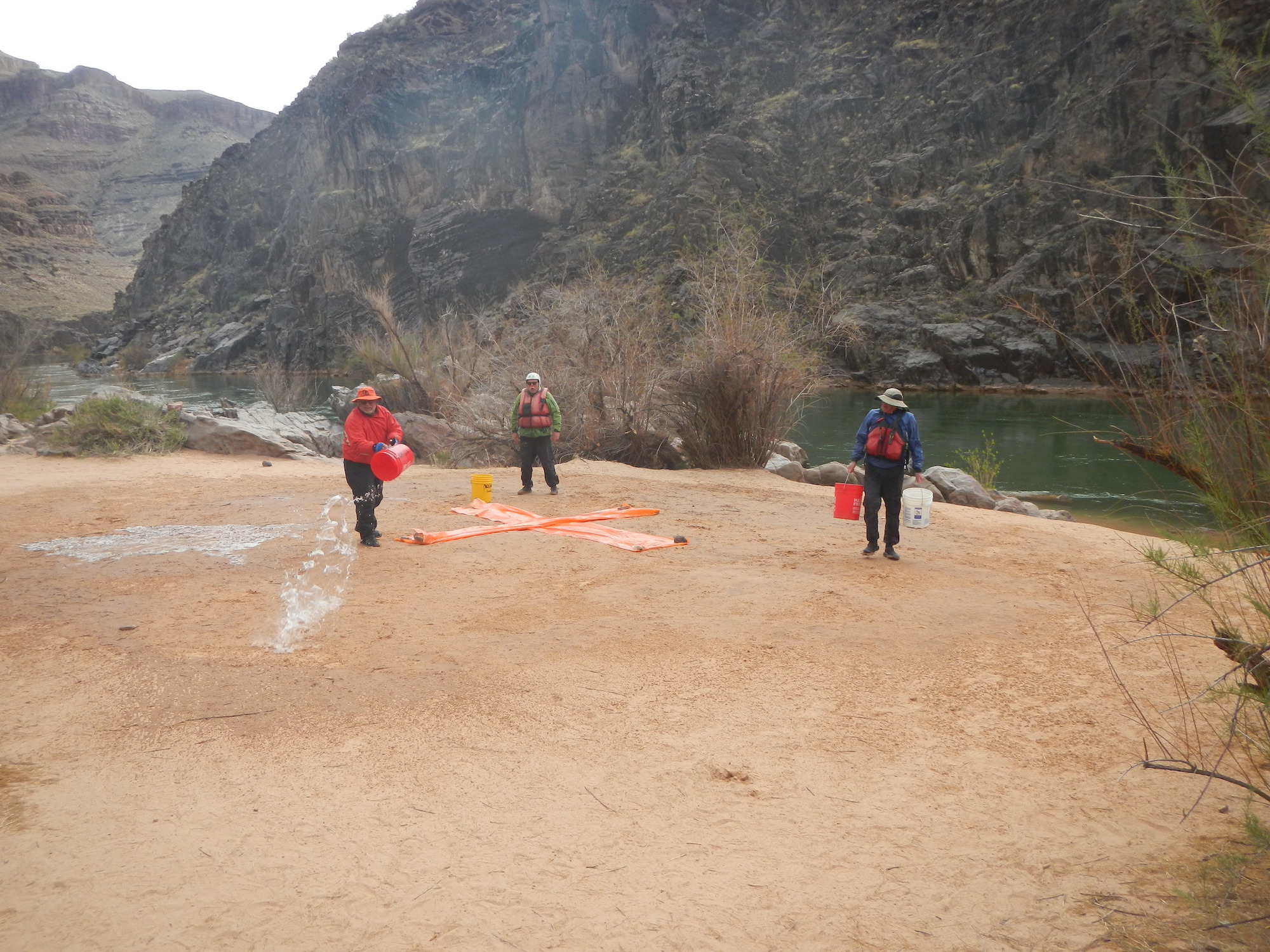 Let's step back a bit. Sometimes we load our boats heavy and other times ridiculously heavy. Kyles's 18 ft NRS from Canyon REO had the kitchen box, a couple of groovers, probably about 9 rocket boxes of canned food as well as two passengers and all their gear including booze and beer. Ahh beer…… Having learned about beer basements for rafts, Kyle called Canyon REO to get the dimensions of the stern compartment so he could fashion one for the rental craft he would pilot. When he showed up at my house for the prepack for The Canyon I was glad I had a one ton pickup because his beer basement constructed of plywood and two x fours contained 109 beers and took two of us and a hernia insurance policy to wrestle it into the truck. Now after a week in the bottom of a boat the wood gets water logged so add that to the weight. Oh did I mention that Kyle had 48 beers available for the first half that were not in the basement, but those were gone and he mentioned that he would have to crack open his cargo that evening. Mass can be a good thing when trying to punch holes but sometimes you have to pull back to maneuver the boat. If Kyle had only packed light beer. . . . Anyway, Kyle was pulling on the oars, with his feet braced against the frame cross bar to allow him the use his legs to add more power to his efforts. Being that he rides dirt bikes 2-3 times per week he has tremendous grip strength. Unfortunately it overpowered his shoulder joint and he dislocated his left shoulder during the maneuver.
I pulled up and his boat with Joni and Nancy was washing up against the left wall. I thought he must have lost an oar but he wasn't scrambling to fix anything on the boat. He said his arm wasn't working and we could see he was in pain. Dave Aldrich moved from my boat to captain Kyle's boat down to a more suitable eddy where Frank Mayer and Greg Ego were trying to push his shoulder back into its socket. Kyle had them pause thinking he was going to barf due to the pain. Greg and Frank made several more attempts but to no avail.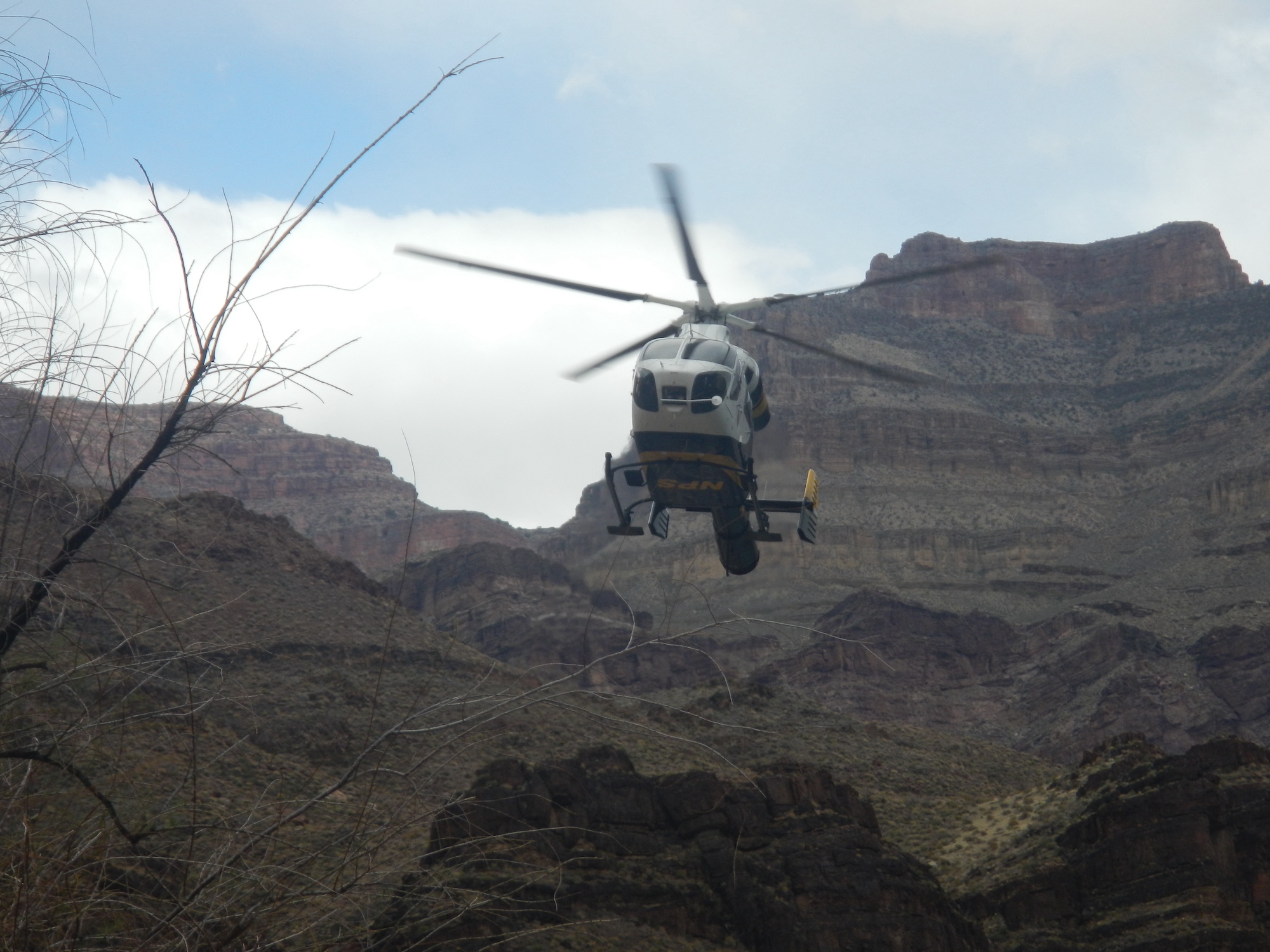 Both Frank and Greg each had an In-Reach, which is a device that allows you to send limited text messages via satellite. The ones in our group had preprogrammed numbers of family members who could get updates on our river progress or act on our behalf in case of emergencies. I may still have this next sequence of events a little garbled but here goes. Deb Ego and Dez Riggs both received texts telling them to contact The Park Service because we had an injury. It takes a while to send and receive signals so our rafting group put Tom Beck in the driver's seat in Kyle's place and we could see that the next logical place for a helicopter landing would be at Bass Camp about an hour downstream and some more big rapids.
Kyle was wearing a wetsuit and we put a stocking hat and Joni's poncho on him to help keep him warm through the rapids, but he looked miserable. We beat feet down to Bass camp and some texts came in on the In-Reach devices as John Collins, Joe Van Meter, and Frank Mayer were setting out the orange rescue panels and wetting down the camp with buckets of river water. I dug in his bag and Laura Mayer found his wallet and dry clothes. I hadn't had to dress Kyle since he was 3 but he needed the help and his grimace made us realize that the pain killers we had given him on the river were just scratching the surface.
Finally a text came in from the Park Service asking what was going on and our location. We had been at the camp for about 30 minutes and wondered why they hadn't arrived yet. Frank texted them with the information.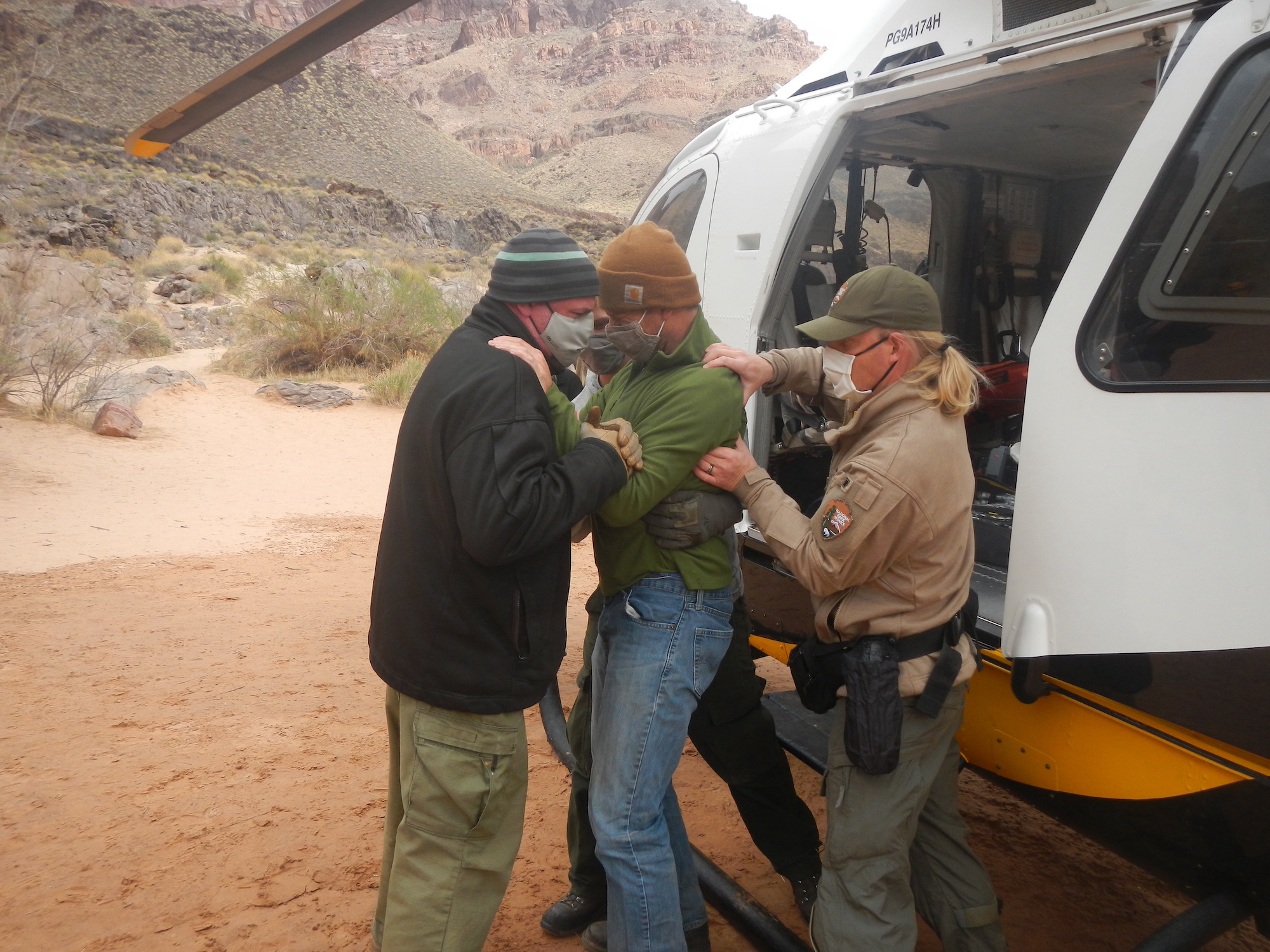 In the meantime, a boating party we had met at Phantom approached and the agreement was to let them have Bass Camp for their planned layover since we had planned on proceeding downstream to beat the scheduled low water release of 4000 cfs planned for the coming week for dam repairs. Greg Ego shouted at the approaching group to pull over since we were expecting a helicopter. His voice was so loud we later joked that we didn't need the Inreach because he could just yell for help. In their group was Chris Woods, a paramedic from Montana who walked down the shore to check out the scene. We described the situation and he said he has reset some dislocated shoulders and would be willing to help.
Just as we were getting a pad for Kyle to lie on for Chris's work we heard the Park Helicopter approaching. It made a pass then continued down the canyon then reappeared a minute later for the final approach and landing. We pulled the orange panels and confirmed that hats, bags, boat gear were all secure. The wind from the helicopter was tremendous as evidenced by the mud blown onto our rafts. We all turned away from the rotors as they landed and followed the instructions from the orientation to keep away until directed by the pilot that we could approach.
Four people emerged from the helicopter, a pilot, a paramedic, a trainee, and one other. They asked Kyle questions and gave him an injection to ease his pain. They had him next to the helicopter and were monitoring his vital signs then asked if he would like them to try to relocate his shoulder. Yes. Kyle placed his injured left arm on one guy's shoulder while the paramedic was pushing upward and forward on the scapula. They tried this several times to no avail. Kyle was going home.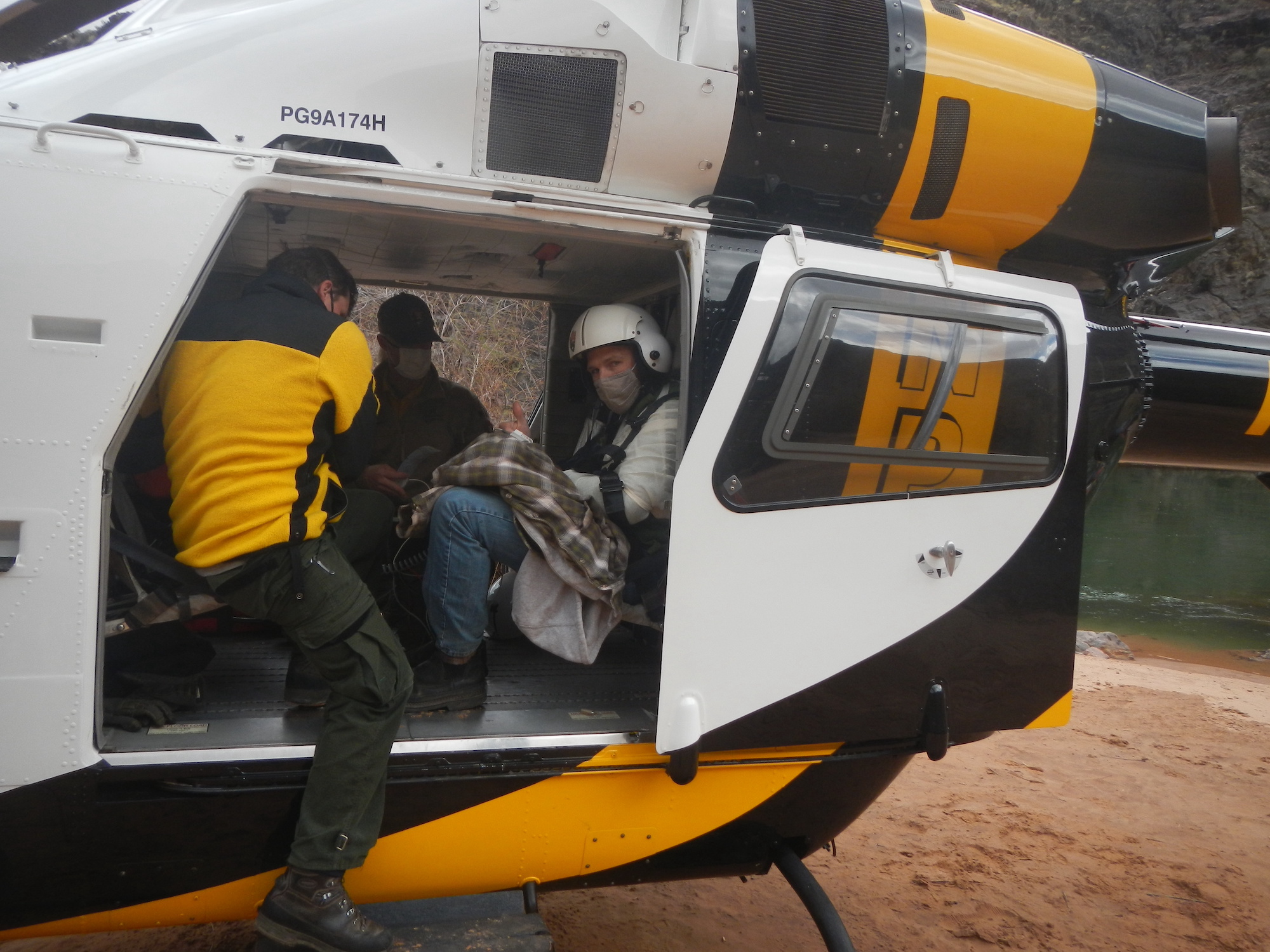 Most people who are half trippers take out at Phantom, not Bass Camp, Kyle.
We had his wallet, phone, and an overnight bag packed for him, and the rescuers put him in a sling to immobilize his injured shoulder during the helicopter ride back to the South Rim where he would be transported to the clinic. The clinic brought in a specialist and it took him 20 minutes to manipulate Kyle's shoulder back into position. Kyle said his pain immediately went from an 8 to a 3.
Kyle had no lodging lined up at the rim and the Park ranger who dropped him off at the clinic kindly gave him a ride into Tusayan where he had to order a taxi to get him to Flagstaff for a flight home the next day. His injury happened on a Wednesday, he got to Flagstaff then Portland on Thursday and went to work on Friday to save those precious vacation days. A week and a half later he was on a 10 day dirt bike trip in Moab.
It's not clear if the Park Service has a better system for receiving Inreach signals directly but if you are planning a trip with an Inreach ask the River Manager the protocol for contacting them be it on the Grand Canyon or the Noatak or someplace in Mongolia. The Grand Canyon Park Service explicitly has you contact them for rescue operations and if they send their helicopter the bill is picked up by the taxpayers. If for some reason they must send a contractor, then there might be some dollars due. During our orientation, Peggy the ranger, said 90 percent of the injuries occur on shore due to a sprained ankle, norovirus, etc.
Kyle was part of the 10% group.